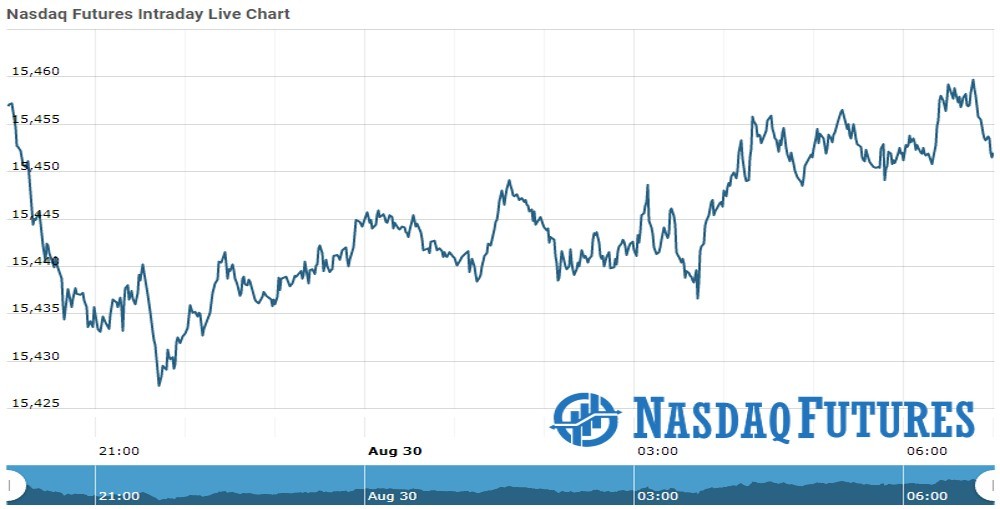 Dow Futures Update : 30 August 2021
U.S. stock higher in pre-market trading for Aug 30.The Dow Futures is trading at 35,466.00 up with +0.03% percent or +10.20 point.The S&P 500 Futures is trading at 4,512.30 up with +0.06% percent or +2.90 point.The Nasdaq Futures is trading at 15,452.60 with +0.13% percent or +19.60 point.
In other parts of world, Japan's Nikkei 225 is trading at 27,789.29 up with +0.54% percent or +148.15 point. Hong Kong's Hang Seng is trading at 25,420.11 with 0.048% percent or +12.22  point. China's Shanghai Composite is trading at 3,525.16 up with +0.085% percent or +3.00 point. India's BSE Sensex is trading at 56,649.11 up with +0.93% percent or +524.39 point at 12:15 PM.For the day the FTSE 100 closed at 7,148.01 up with +0.32% percent or +23.03 point. France's CAC 40 closed at 6,681.92 up with +0.24% percent or +15.89 point.Germany's DAX closed at 15,851.75 up with +0.37% percent or +58.13 point.
MONDAY'S FACTORS AND EVENTS
The National Council on Occupational Safety and Health included Amazon in its "Dirty Dozen" list of the most dangerous employers in the U.S. Earlier this year, New York Attorney General Letitia James filed a lawsuit against Amazon for inadequately protecting workers amid the Coronavirus pandemic. While Amazon just finished its third consecutive $100 billion quarter, showing customers continue to shop with the e-commerce giant and it is one of the trillion-dollar-plus tech companies that dominate the market, there is a question of whether more investors will start paying attention to worker safety.
FRIDAY ACTIVITY
For the day the Dow is trading at 35,455.80 up with +0.69% percent or +242.68 point. The S&P 500 is trading at 4,509.37 up with +0.88% percent or +39.37 point. The Nasdaq Composite is trading at 15,129.50 up  with +1.23% percent or +183.69 point.
Other leading market index closes included the small-cap Russell 2000 Index closed  at   2,277.15 up with +2.85% percent or +63.17 point. the S&P 600 Small-Cap Index closed at 1,375.0 up with +2.93% percent or +39.19 point. the S&P 400 Mid-Cap Index closed at 2,767.06  up with +1.85% percent or +50.37 point. the S&P 100 Index closed at 2,068.29  up with 0.82% percent or +16.90 point.the Russell 3000 Index closed at 2,677.90 with 1.06% percent or +28.09 point. the Russell 1000 Index closed at 2,532.05  up with +0.94% or +23.57point.