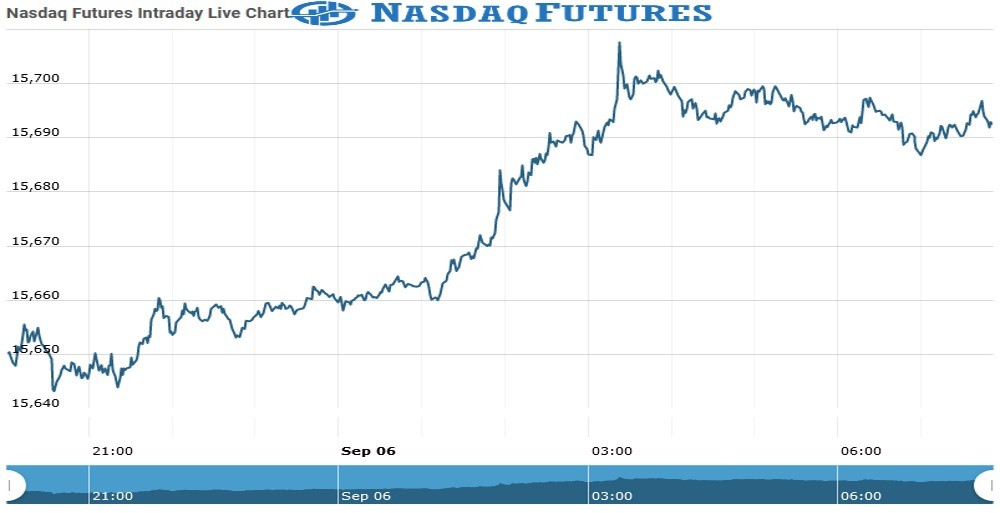 Nasdaq Futures Update : 06 Sept 2021
U.S. stock higher in pre-market trading for Sept 06.The Nasdaq Futures is trading at 15,692.80 up with +0.26% percent or +39.90 point.The Dow Futures is trading at 35,447.30 up with +0.22%percent or +78.20 point.The S&P 500 Futures is trading at 4,545.40 up with +0.22% percent or +10.00 point.
In other parts of world, Japan's Nikkei 225 is trading at 29,692.80 up with +1.94% percent or +564.69 point. Hong Kong's Hang Seng is trading at 26,104.96 up with +0.77% percent or +199.24 point. China's Shanghai Composite is trading at 3,622.53 up with  +1.14% percent or +40.80 point. India's BSE Sensex is trading at 57,914.49 up with +0.11% percent or +61.95 point at 12:15 PM.For the day the FTSE 100 closed at 7,138.35 with a loss of –0.36% percent or ?25.55 point. France's CAC 40 closed at 6,689.99 with a loss of  –1.08% percent or –73.09 point.Germany's DAX closed at 15,781.20 with a loss of –0.37% percent or –59.39 point.
MONDAY'S FACTORS AND EVENTS
Federal Reserve Chairman Jerome Powell has emphasized the need for stronger jobs data before the central bank would start to unwind its massive bond-buying program, and the disappointing report could change expectations about when the Fed will start its tapering process.
FRIDAY ACTIVITY
For the day The Nasdaq Composite is trading at 15,309.38 up with +0.33% percent or +50.15 point.the Dow is trading at 35,312.53 with a loss of –0.14% percent or –48.20 point. The S&P 500 is trading at 4,524.09 up with +0.031% percent or +1.41 point.
Other leading market index closes included the small-cap Russell 2000 Index closed  at   2,292.05 with a loss of  -0.52% percent or -11.97 point. the S&P 600 Small-Cap Index closed at  1,369.73 with a loss of  -0.60% percent or -8.26 point. the S&P 400 Mid-Cap Index closed at 2,760.55  with a loss of –0.48% percent or ?13.28 point. the S&P 100 Index closed at 2,082.79 up with +0.040% percent or +0.84 point.the Russell 3000 Index closed at 2,694.20  with a loss of –0.045% percent or –1.21 point. the Russell 1000 Index closed at 2,547.70 up with +0.32% or +8.01 point.