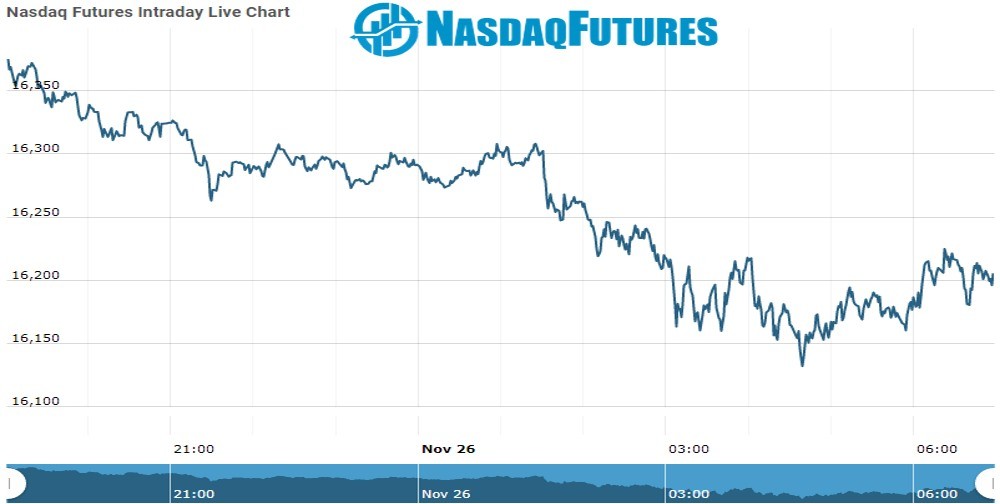 Nasdaq Futures Update : 30 Nov 2021
U.S. stock higher in pre-market trading for Nov 30.The Nasdaq Futures is trading at 16,281.30 with a loss of -0.72% percent or -117.90 point.The Dow Futures is trading at 34,569.90 with a loss of -1.61% percent or -566.00 point.The S&P 500 Futures is trading at 4,593.20 with a loss of -1.33% percent or -62.10 point.
In other parts of world, Japan's Nikkei 225 is trading at 28,088.69 with a loss of –0.69% percent or  –195.23 point. Hong Kong's Hang Seng is trading at 23,329.96 with a loss of –2.19% percent or –522.28 point. China's Shanghai Composite is trading at 3,565.09 up with +0.067% percent or +2.40 point. India's BSE Sensex is trading at 57,597.69 up with +0.59% percent or +337.11 point at 12:15 PM.For the day the FTSE 100 closed at 7,109.95 up with +0.94% percent or +0.94% point. France's CAC 40 closed at 6,776.25 up with +0.54%  percent or +36.52  point.Germany's DAX closed at 15,280.86 up with +0.16% percent or +23.82 point.
TUESDAY'S FACTORS AND EVENTS
The pan-European Stoxx 600 provisionally closed up by 0.8% with oil and gas shares climbing 2.2% to lead the gains. Almost all sectors and major bourses traded in positive territory, with stocks looking to rebound from Friday's sell-off.
The World Health Organization labeled the new omicron strain a "variant of concern" on Friday.
While scientists continue to research the variant, omicron's large number of mutations has raised alarm. Preliminary evidence suggests the strain has an increased risk of reinfection, according to the WHO.
MONDAY ACTIVITY
For the day The Nasdaq Composite is trading at 15,782.83 up with +1.88% percent or +291.18   point.the Dow is trading at 35,135.94 up with  +0.68% percent or +236.60 point. The S&P 500 is trading at 4,655.27 up with +1.32% percent or +60.65   point. 
Other leading market index closes included the small-cap Russell 2000 Index closed at  2,241.98 with a loss of -0.18% percent or -3.96 point. the S&P 600 Small-Cap Index closed at 1,372.49 with a loss of –0.28% percent or -3.84 point. the S&P 400 Mid-Cap Index closed at 2,781.81 up with +0.086% percent or +2.40   point. the S&P 100 Index closed at 2,151.21 up with +1.36% percent or +28.81 point.the Russell 3000 Index closed at 2,739.79 up with +1.11% percent or +30.06 point. the Russell 1000 Index closed at 2,597.31 up with +1.20% or +30.70  point.