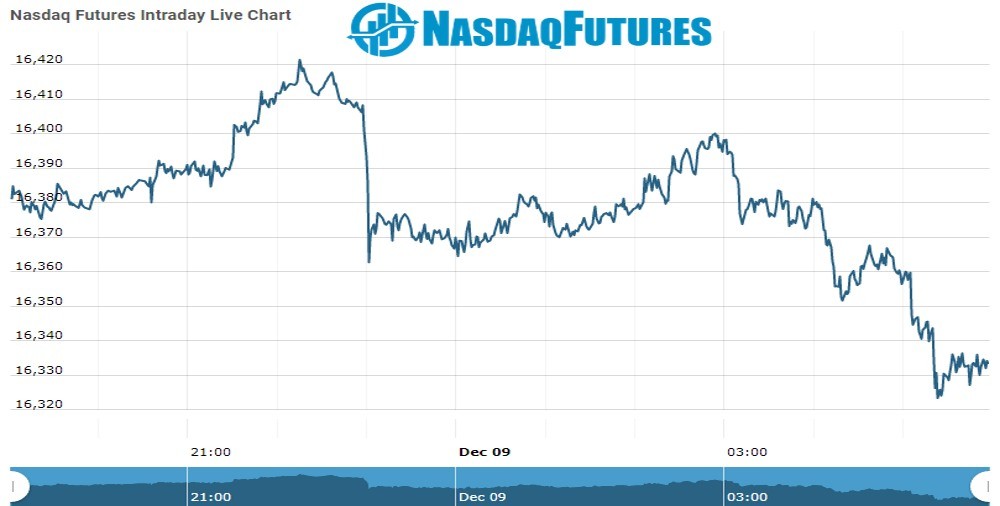 Nasdaq Futures Update : 09 Dec 2021
U.S. stock higher in pre-market trading for Dec 09.The Nasdaq Futures is trading at 16,369.30 with a loss of -0.15% percent or -25.00 point.The Dow Futures is trading at 35,657.70 with a loss of -0.27% percent or -97.10 point.The S&P 500 Futures is trading at 4,691.80 with a loss of -0.20% percent or -9.40 point.
In other parts of world, Japan's Nikkei 225 is trading at 28,767.21  with a loss of –0.32% percent or ?93.41 point. Hong Kong's Hang Seng is trading at 24,237.22 up with 1.00% percent or +240.00 point. China's Shanghai Composite is trading at 3,677.77 up with +1.11% percent or +40.20 point. India's BSE Sensex is trading at 58,541.63 with a loss of –0.18% percent or 108.05  point at 12:15 PM.For the day the FTSE 100 closed at 7,337.05 with a loss of –0.039% percent or -2.85 point. France's CAC 40 closed at 7,014.57 with a loss of –0.72% percent or 50.82   point.Germany's DAX closed at 15,687.09 with a los of –0.80% percent or –126.85  point.
THURSDAY'S FACTORS AND EVENTS
the White House's chief medical advisor Dr. Anthony Fauci said preliminary data from South Africa last week was "encouraging" as it suggested omicron is not as severe as initially feared, while noting that more data is needed to fully assess the risk posed by the variant.
WEDNESDAY ACTIVITY
For the day The Nasdaq Composite is trading at 15,786.99 up with +0.64% percent or +100.07  point.the Dow is trading at 35,754.75 up with +0.099% percent or +35.32  point. The S&P 500 is trading at 4,701.21  up with +0.31% percent or +14.46  point. 
Other leading market index closes included the small-cap Russell 2000 Index closed at 2,271.71 up with +0.80% percent or +17.92 point. the S&P 600 Small-Cap Index closed at 1,400.50  up with +0.46% percent or +6.48 point. the S&P 400 Mid-Cap Index closed at 2,818.07  up with 0.57% percent or +16.01   point. the S&P 100 Index closed at 2,170.38 up with +0.29% percent or +6.28 point.the Russell 3000 Index closed at 2,762.09 up with +0.43% percent or +11.86 point. the Russell 1000 Index closed at 2,617.56 up with +0.41%% or +10.61  point.