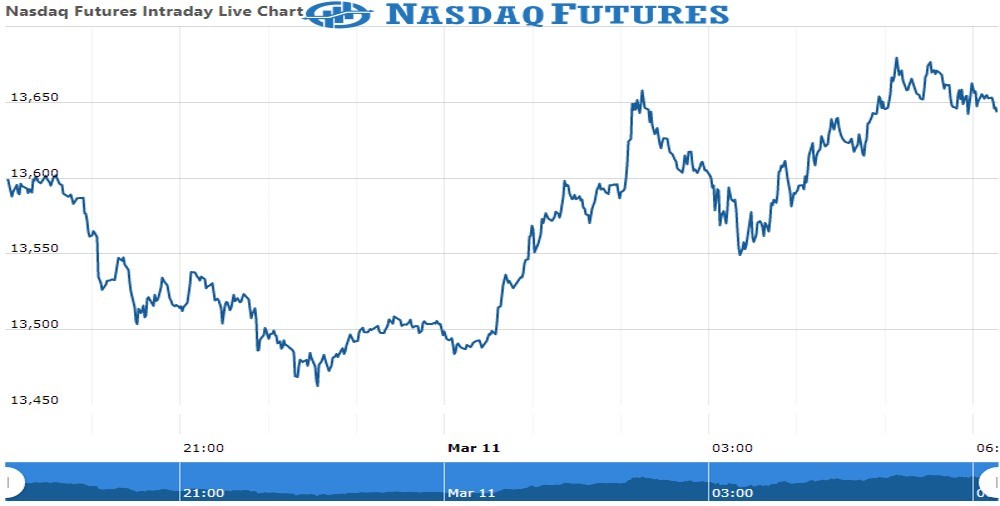 Nasdaq Futures Update : 11 March 2022
U.S. stock lower in pre-market trading for March 09.The Nasdaq Futures is trading at13,666.20 up with +0.55% percent or +75.20 point.The Dow Futures is trading at 33,298.20 up with +0.37% percent or +124.10 point.The S&P 500 Futures is  trading at 4,280.60 up with +0.49% percent or +21.10 point.
In other parts of world, Japan's Nikkei 225 is trading at 25,162.78 with a loss of –2.05% percent or ?527.62 point. Hong Kong's Hang Seng is trading at 20,588.69  with a loss of –1.44% percent or –301.57 point. China's Shanghai Composite is trading at 3,309.75 up with +0.41% percent or +13.65 point. India's BSE Sensex is trading at 55,419.16 with a loss of –0.082% percent or -45.23  point at 12:15 PM.For the day the FTSE 100 closed at 7,099.09 with a loss of  –1.27% percent or –91.63 point. France's CAC 40 closed at 6,207.20  with a loss of –2.83% percent or ?180.63 point.Germany's DAX closed at 13,442.10 with a loss of –2.93% percent or –405.83   point.
FRIDAY'S FACTORS AND EVENTS
Market sentiment has been in thrall to developments in Ukraine since Russia launched its attack on Feb. 24. Talks between Russian and Ukrainian diplomats in Turkey have stalled without progress on a cease-fire or an evacuation passage for civilians attempting to flee the besieged city of Mariupol.
THURSDAY ACTIVITY
For the day The Nasdaq Composite is trading at 12,795.55 with a loss of –0.28% percent or –35.41  point.the Dow is trading at 32,632.64 with a loss of –0.56% percent or –184.74 point. The S&P 500 is trading at 4,170.70 with a loss of –0.72% percent or –30.39 point.
Other leading market index closes included the small-cap Russell 2000 Index closed a 2,011.67 with a loss of  -0.23% percent or   point. the S&P 600 Small-Cap Index closed at 1,299.60 with a loss of – 0.13% percent or ?1.63  point. the S&P 400 Mid-Cap Index closed at 2,596.37 with a loss of –0.028% percent or ?0.74   point. the S&P 100 Index closed at 1,951.52 with a loss of –0.48%percent or  ?9.41 point.the Russell 3000 Index closed at 2,479.65 with a loss of -0.43% percent or ?10.60  point. the Russell 1000 Index closed at 2,352.03 with a loss of -0.44% or ?10.36 point.