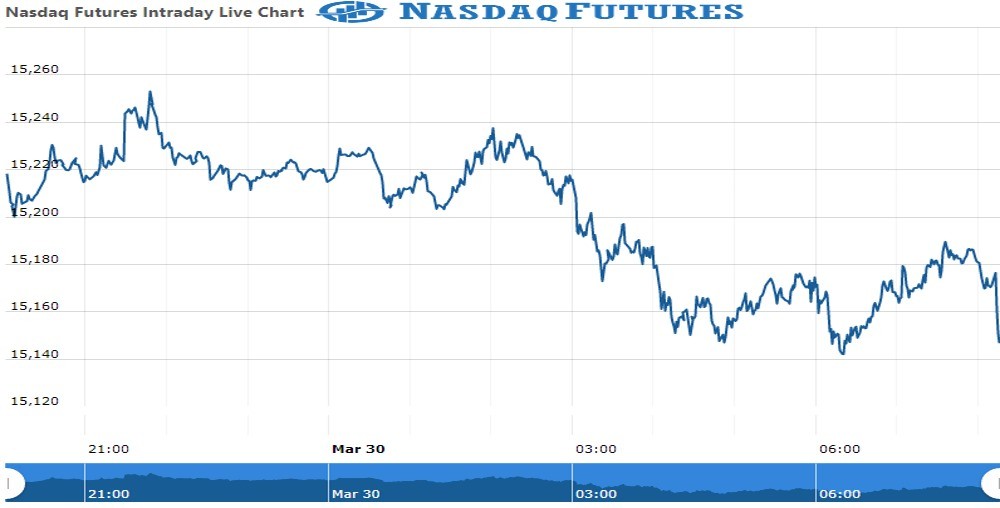 Dow Futures Update : 30 March 2022
U.S. stock lower in pre-market trading for March 30.The Nasdaq Futures is trading at 15,170.60 with  a loss of -0.45% percent or -68.70 point.The Dow Futures is trading at 35,210.70 with a loss of -0.24% percent or -83.50 point.The S&P 500 Futures is  trading at 4,618.10 with -0.29% percent or -13.50 poin.
In other parts of world, Japan's Nikkei 225 is trading at 28,027.25 up with +0.80% percent or ?225.17 point. Hong Kong's Hang Seng is trading at 22,334.69  up with +1.86% percent or +407.06 point. China's Shanghai Composite is trading at 3,258.17 up with +1.69% percent or +54.23 point. India's BSE Sensex is trading at 58,583.05 up with +1.10% percent or +639.40  point at 12:15 PM.For the day the FTSE 100 closed at 7,537.25 with 0.00% percent or 0.00  point. France's CAC 40 closed at 6,792.16 with +3.08%percent or +203.05 point.Germany's DAX closed at 14,820.33 up with +2.79% percent or +402.96  point.
TUESDAY'S FACTORS AND EVENTS
Ukrainian officials said they would not be opening any humanitarian corridors Monday to allow the evacuation of civilians in light of intelligence that suggested Russian forces may be planning an attack on the evacuation routes.
With bond markets particularly febrile at present and stocks around the world grinding higher despite the ongoing uncertainty around Ukraine and inflation, the TINA (there is no alternative) approach to equities might be in play, suggested James Athey, senior investment manager at Abrdn.
MONDAY ACTIVITY
For the day The Nasdaq Composite is trading at 14,619.64 up with 1.84% percent or +264.73   point.the Dow is trading at 35,294.19 up with +0.97% percent or +338.30 point. The S&P 500 is trading at 4,631.60 with 1.23% percent or +56.08  point. 
Other leading market index closes included the small-cap Russell 2000 Index closed a 2,133.10 up with +2.65% percent or  +55.04 point. the S&P 600 Small-Cap Index closed at 1,357.33 with 2.39% percent or +31.72  point. the S&P 400 Mid-Cap Index closed at 2,773.72 up with +2.09% percent or +56.68 point. the S&P 100 Index closed at 2,133.22 up with +1.09% percent or  +23.02 point.the Russell 3000 Index closed at 2,694.04 with 1.45% percent or +38.55  point. the Russell 1000 Index closed at 2,559.44 up with +1.38% or +34.72 point.