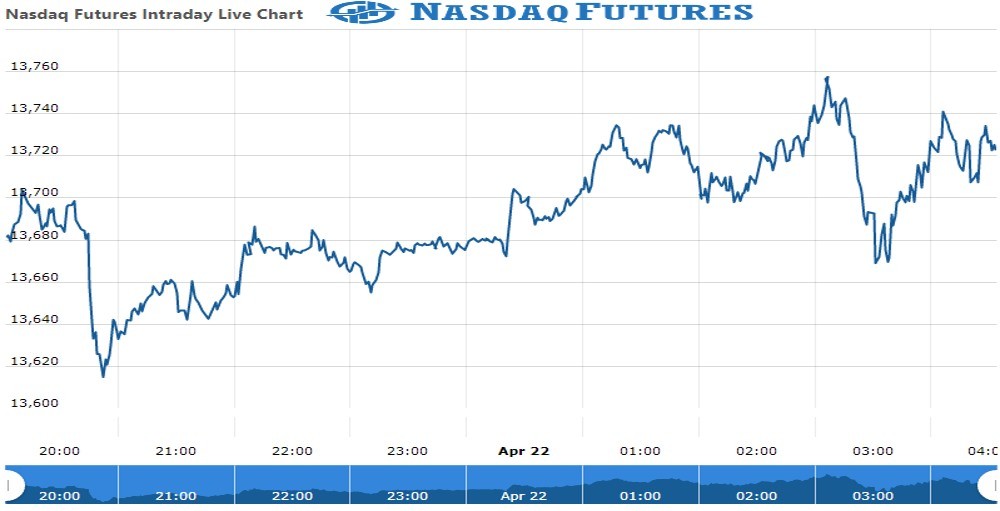 Nasdaq Futures Update : 22 April 2022
U.S. stock higher in pre-market trading for April 22.The Nasdaq Futures is trading at 13,703.00 with -0.13% percent or -17.50 point.The Dow Futures is trading at 34,728.60 with a loss of -0.18% percent or -64.20 point.The S&P 500 Futures is  trading at 4,386.40 with a loss of -0.17% percent or -7.30 point.
In other parts of world, Japan's Nikkei 225 is trading at 27,129.40 with –1.54% percent or -423.66  point. Hong Kong's Hang Seng is trading at 20,674.40 with a loss of –0.038% percent or ?7.82  point. China's Shanghai Composite is trading at 3,102.91 with 0.75% percent or +23.10  point. India's BSE Sensex is trading at 57,630.74  with a loss of –0.49% percent or ?280.94  point at 12:15 PM.For the day the FTSE 100 closed at 7,627.95 with a loss of –0.017% percent or ?1.27   point. France's CAC 40 closed at 6,715.10 up with +1.36% percent or +90.19 point.Germany's DAX closed at 14,502.41 with 0.98% percent or +140.38 point.
FRIDAY'S FACTORS AND EVENTS
The war in Ukraine remains at the forefront of market participants' minds in Europe, with the second phase of the conflict, focusing on the Donbas region in eastern Ukraine, fully underway now.
Russia has set a new ultimatum for surrender in the heavily destroyed city of Mariupol, where Ukrainian forces and reportedly hundreds of civilians are holed up in the Azovstal steel plant. Meanwhile, officials in Ukraine continue to call for more weapons support and faster delivery as Russia intensifies its bombardment of the Donbas.
THURSDAY ACTIVITY
For the day The Nasdaq Composite is trading at 13,174.65  with a loss of 2.07% percent or –278.41  point.the Dow is trading at 34,792.76 with a loss of –1.05% percent or ?368.03 point. The S&P 500 is trading at 4,393.66 with a loss of –1.48% percent or –65.79 point. 
Other leading market index closes included the small-cap Russell 2000 Index closed a 1,991.46 up with -2.29% percent or  -46.72 point. the S&P 600 Small-Cap Index closed at 1,292.39 with a loss of -1.58% percent or ?20.71  point. the S&P 400 Mid-Cap Index closed at 2,653.86 with a loss of -1.81% percent or ?48.87  point. the S&P 100 Index closed at 1,998.81 with a loss of –1.38% percent or  ?27.89 point.the Russell 3000 Index closed at 2,545.99  with a loss of -1.65% percent or ?42.66  point. the Russell 1000 Index closed at 2,420.68 with a loss of -1.61% or ?39.53 point.