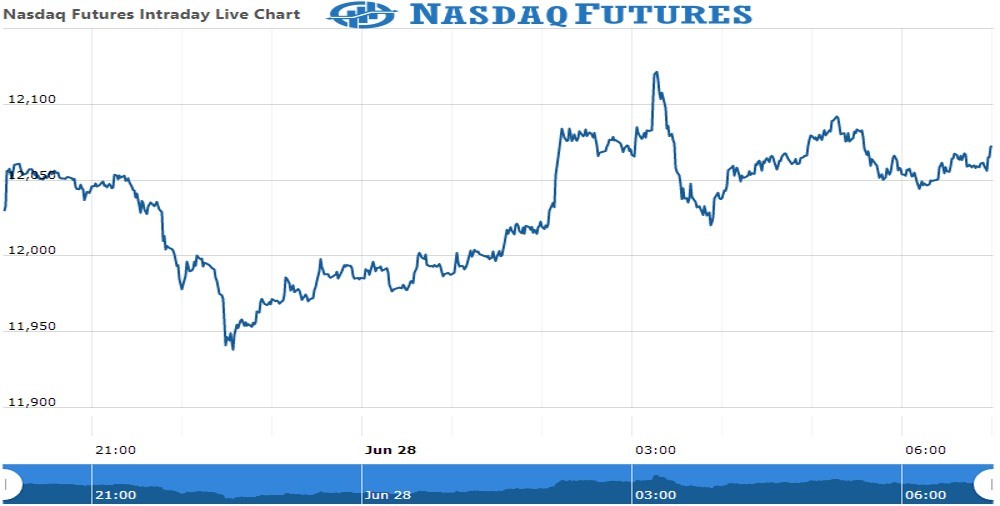 Nasdaq Futures Update : 28 June 2022
U.S. stock higher in pre-market trading for June 28.The Nasdaq Futures is trading at 12,058.5 up with +0.42% percent or +50.3 point.The Dow Futures is trading at 31,602.5 with +0.52% percent or +164.2 point.The S&P 500 Futures is  trading at 3,918.70 with +0.48% percent or +0.48% point.
In other parts of world, Japan's Nikkei 225 is trading at 27,049.47 with 0.66% percent or +178.20  point. Hong Kong's Hang Seng is trading at 22,394.76  up with +0.74% percent or +165.24 point. China's Shanghai Composite is trading at 3,407.58 with 0.84% percent or +28.40 point. India's BSE Sensex is trading at 52,964.41  with a loss of 0.37% percent or –196.87  point at 12:15 PM.For the day the FTSE 100 closed at 7,258.32 up with +0.69% percent or +49.51  point. France's CAC 40 closed at 6,047.31 with a loss of –0.43% percent or ?26.04  point.Germany's DAX closed at 13,186.07 with 0.52% percent or +67.94  point.
TUESDAY'S FACTORS AND EVENTS
In terms of individual share price movement, Dutch-based tech investor Prosus jumped nearly 16% after announcing a plan to gradually sell down its 28.9% stake in Chinese software titan Tencent.
It comes after the European blue chip index closed up by 2.6% last Friday, marking its best day in more than three months.
But despite the positive end to the trading week, last week was marked by more volatile trading as investors assessed the risks posed by rising inflation and fears of an economic recession.
MONDAY ACTIVITY
For the day The Nasdaq Composite is trading at 11,524.55 up with +0.72% percent or +83.07   point. the Dow is trading at 31,438.26 with a loss of –0.20% percent or -62.42   point. The S&P 500 is trading at 3,900.11  with a loss of –0.30% percent or -11.63 point. 
Other leading market index closes included the small-cap Russell 2000 Index closed a 1,771.74 up with 0.34% percent or  6.01 point. the S&P 600 Small-Cap Index closed at 1,161.44 with 0.79% percent or +9.12 point. the S&P 400 Mid-Cap Index closed at 2,342.00 up with 0.33% percent or +7.60 point. the S&P 100 Index closed at 1,780.89 with a loss of –0.46% percent or  ?8.31 point.the Russell 3000 Index closed at 2,254.61  up with 0.27% percent or ?6.17  point. the Russell 1000 Index closed at 2,143.00 with a loss of -0.31% or ?6.71 point.