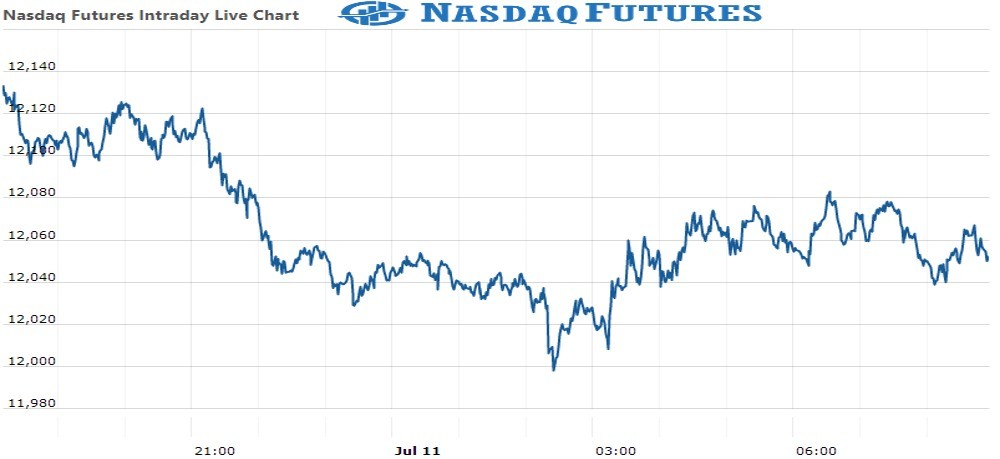 U.S. stock lower in pre-market trading for July 11.The Nasdaq Futures is trading at 12,075.20 with a loss of -0.63% percent or -76.75 point.The Dow Futures is trading at 31,162.0 with a loss of -0.47% percent or -148.0 point.The S&P 500 Futures is  trading at 3,880.00 with -0.54% percent or -21.25 point.
In other parts of world, Japan's Nikkei 225 is trading at 26,843.38 up with +1.23% percent or +326.19  point. Hong Kong's Hang Seng is trading at 21,021.04 with a loss of –3.24% percent or -704.74 point. China's Shanghai Composite is trading at 3,302.17 with a loss of –1.61% percent or -53.91  point. India's BSE Sensex is trading at 54,201.50 with a loss of –0.51% percent or 0.51%  point at 12:15 PM.For the day the FTSE 100 closed at 7,196.24 up with +0.100% percent or +7.16 point. France's CAC 40 closed at 6,033.13 with 0.44% percent or +26.43  point.Germany's DAX closed at 13,015.23 up with +1.34% percent or +172.01 point.
MONDAY'S FACTORS AND EVENTS
The worst performer on the index was Germany energy company Uniper, its stock down 8.5% after a dispute flared up between Germany and Finland over the cost of rescuing the gas importer Uniper. The company asked for a German government bailout last week but its Finnish main shareholder Fortum rejected calls for more help for the ailing firm.
FRIDAY ACTIVITY
For the day The Nasdaq Composite is trading at 11,635.31 up with +0.12% percent or +13.96  point. the Dow is trading at 31,338.15 with a loss of –0.15% percent or –46.40  point. The S&P 500 is trading at 3,899.38 with a loss of –0.083% percent or –3.24 point. 
Other leading market index closes included the small-cap Russell 2000 Index closed a 1,727.55 with -0.79% percent or  -13.78 point. the S&P 600 Small-Cap Index closed at 1,126.68 with a loss of –1.17%percent or ?13.39 point. the S&P 400 Mid-Cap Index closed at 2,320.39 with a loss of -0.33% percent or ?13.85 point. the S&P 100 Index closed at 1,786.35 with 0.026% percent or  +0.47 point.the Russell 3000 Index closed at 2,253.13 with a loss of –0.12% percent or ?2.60 point. the Russell 1000 Index closed at 2,141.69 with a loss of -0.12% or ?2.61 point.