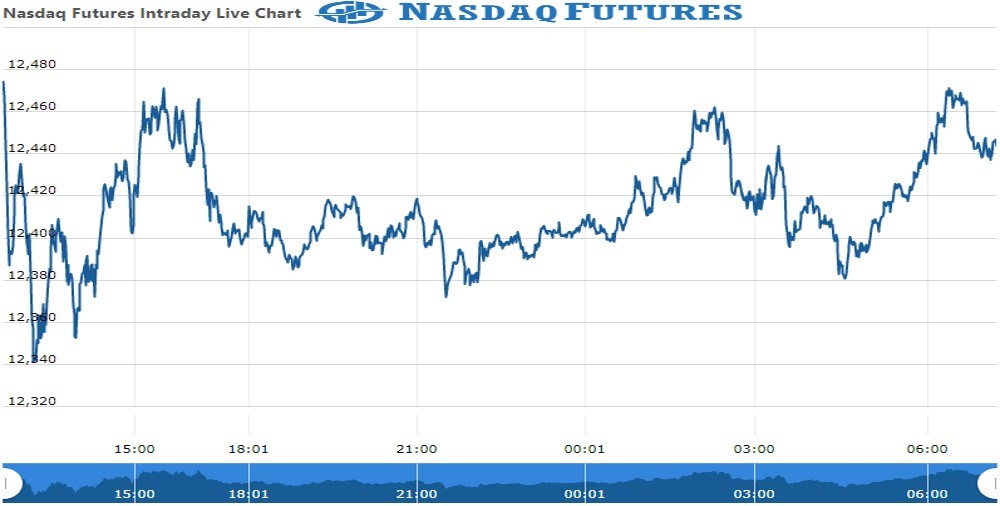 Nasdaq Futures Update : 21 July 2022
U.S. stock higher in pre-market trading for July 21.The Nasdaq Futures is trading at 12,430.5 with a loss of -0.07% percent or -9.2 point.The Dow Futures is trading at 31,787.9 with a loss of -0.27% percent or -86.9 point.The S&P 500 Futures is  trading at 3,952.00 with -0.20% percent or -7.90 point.
In other parts of world, Japan's Nikkei 225 is trading at 27,803.00 up with +0.44% percent or +122.74 point. Hong Kong's Hang Seng is trading at 20,656.06 with a loss of –1.12% percent or -234.16 point. China's Shanghai Composite is trading at 3,272.76 with a loss of –0.97% percent or -31.96 point. India's BSE Sensex is trading at 55,545.60 up with +0.27% percent or +148.07 point at 12:15 PM.For the day the FTSE 100 closed at 7,264.31 with a loss of –0.44% percent or –31.97  point. France's CAC 40 closed at 6,184.66 with a loss of –0.27% percent or -16.56  point.Germany's DAX closed at 13,281.98 with a loss of –0.20% percent or –26.43  point.
THURSDAY'S FACTORS AND EVENTS
The ECB will publish its monetary policy decision after the meeting of the central bank's governing council. A press conference will follow at 14:45 CEST with ECB President Christine Lagarde. In June, the central bank said that it intends to raise the key ECB interest rates by 25 basis points at today's meeting.
WDNESDAY ACTIVITY
For the day The Nasdaq Composite is trading at 11,897.65 up with +1.58% percent or +184.50 point.the Dow is trading at 31,874.84 up with +0.15% percent or +47.79  point. The S&P 500 is trading at 3,959.90 with 0.59% percent or +23.21  point. 
Other leading market index closes included the small-cap Russell 2000 Index closed a 1,827.95 up with +1.59% percent or  +28.62 point. the S&P 600 Small-Cap Index closed at 1,193.13 up with +1.42% percent or +16.73 point. the S&P 400 Mid-Cap Index closed at 2,399.49 with +1.03% percent or +24.53 point. the S&P 100 Index closed at 1,811.83 up  with +0.63% percent or  +11.38 point.the Russell 3000 Index closed at 2,293.03 with +0.80% percent or +18.16  point. the Russell 1000 Index closed at 2,177.51 up with +0.75% or +16.15 point