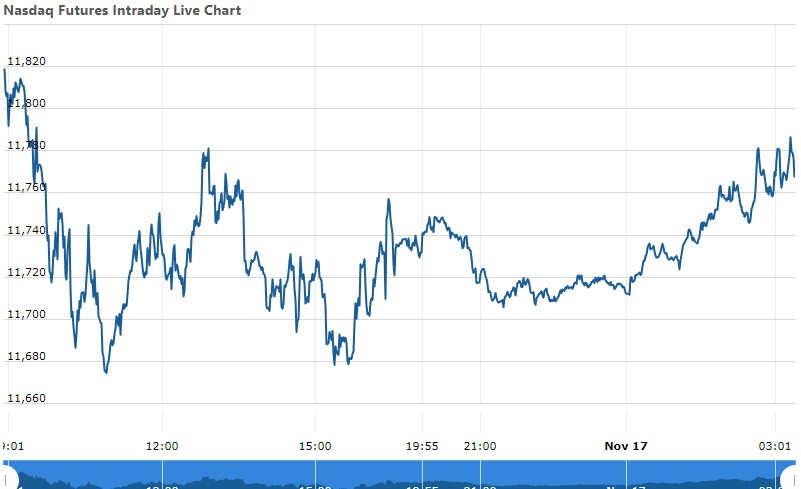 Nasdaq Futures Update : 17 Nov 2022
U.S. stock higher in pre-market trading for Nov 17.The Nasdaq Futures is trading at 11,871.2 up with +0.00% percent or +0.1 point.The Dow Futures is trading at 33,626.7 up with +0.10% percent or +33.8 point.The S&P 500 Futures is  trading at 3,993.00 with +0.03% percent or +1.30 point.
In other parts of world, Japan's Nikkei 225 is trading at 27,928.03 with a loss of –0.36% percent or -100.27 point. Hong Kong's Hang Seng is trading at 17,871.12 with a loss of –2.11% percent or ?385.36  point. China's Shanghai Composite is trading at 3,104.22 up with 0.51% percent or -15.76 point. India's BSE Sensex is trading at 61,861.09  with a loss of –0.19% percent or -119.63 point at 12:15 PM.For the day the FTSE 100 closed at 7,351.19 up with 0.25% percent or -18.25 point. France's CAC 40 closed at 6,607.22 with 0.52% percent or -34.44  point.Germany's DAX closed at 14,234.03 with a loss of -1.00% percent or -144.48 point.
THURSDAY'S FACTORS AND EVENTS
the moves were muted compared with the volatility in currencies overnight when unconfirmed reports broke that two people in a Polish village had died in an explosion caused by Russian missiles near the border with Ukraine.
WEDNESDAY ACTIVITY
For the day The Nasdaq Composite is trading at 11,358.41 with 1.45% percent or +162.19 point. the Dow is trading at 33,592.92 up with 0.17% percent or +56.22  point. The S&P 500 is trading at 3,991.73 with 0.87% percent or +34.48 point. 
Other leading market index closes included the small-cap Russell 2000 Index closed a 1,889.20 with 1.50% percent or  27.95 point. the S&P 600 Small-Cap Index closed at 1,235.03 up with +1.36% percent or +16.56 point. the S&P 400 Mid-Cap Index closed at 2,545.58 with 1.57% percent or +39.43  point. the S&P 100 Index closed at 1,788.71 with 0.84% percent or  +14.83 point.the Russell 3000 Index closed at 2,315.69 with 1.01% percent or +23.07 point. the Russell 1000 Index closed at 2,195.73 with 0.97% or +21.18 point