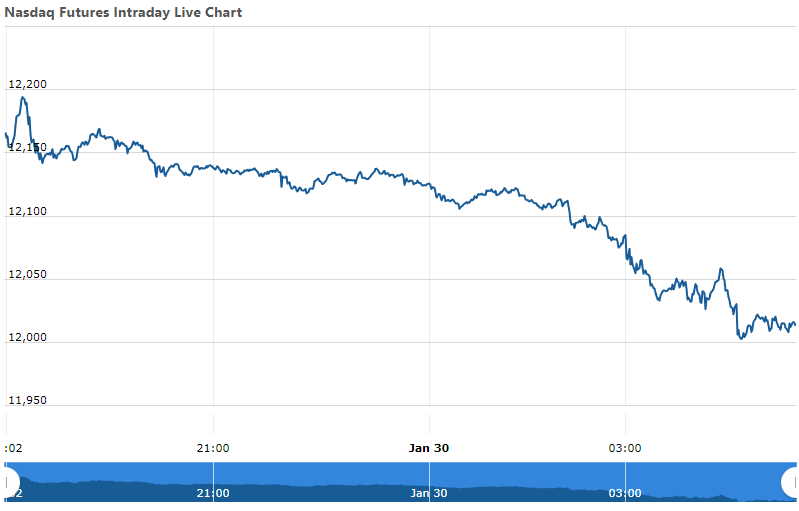 Nasdaq Futures Update : 30 Jan 2022
U.S. stock higher in pre-market trading for Jan  30.The Nasdaq Futures is trading at 12,033.8 with -1.09% percent or -132.8 point.The Dow Futures is trading at 33,791.0 with -0.55% percent or -187.1 point.The S&P 500 Futures is  trading at 4,037.70 with a loss of –0.81% percent or -32.90 point.
In other parts of world, Japan's Nikkei 225 is trading at 27,361.16 with a loss of –0.078% percent or ?21.40 point. Hong Kong's Hang Seng is trading at 22,266.60 with a loss of –1.86% percent or ?422.30 point. China's Shanghai Composite is trading at 3,276.72 with 0.36% percent or +11.90point. India's BSE Sensex is trading at 59,193.33 with  a loss of –0.23% percent or ?137.57 point at 12:15 PM.For the day the FTSE 100 closed at 7,765.15 up with  +0.052% percent or +4.04 point. France's CAC 40 closed at 7,097.21 with 0.017% percent or +1.22 point.Germany's DAX closed at 15,150.03 up with +0.11% percent or +17.18 point.
MONDAY'S FACTORS AND EVENTS
Markets have been buoyed by data this week showing improved business sentiment in Germany and an uptick in euro zone services and manufacturing activity, prompting optimism that a recession in the region might be avoided.
FRIDAY ACTIVITY
For the day the Dow is trading at 33,978.08 with 0.084% percent or +28.67 point. The S&P 500 is trading at 4,070.56 with 0.25% percent or +10.13 point. The Nasdaq Composite is trading at 11,621.71 up with +0.95% percent or +109.30 point.
Other leading market index closes included the small-cap Russell 2000 Index closeda 1,911.46 up with +0.44% percent or +8.39 point. the S&P 600 Small-Cap Index closed at 1,248.59 up with 0.36% percent or ++4.45 point. the S&P 400 Mid-Cap Index closed at 2,619.47 up with 0.37% percent or +9.53 point. the S&P 100 Index closed at 1,817.24 with 0.47% percent or +8.42  point.the Russell 3000 Index closed at 1,911.46 up with 0.44% percent or +8.39 point. the Russell 1000 Index closed at 2,240.66 up with 0.32% or +7.13