U.S. stock futures higher in pre-market trading for Monday, June 11. The Nasdaq Futures is trading at 7,177.00 up with +0.01% percent or +0.50 point.The Dow Futures is trading at 25,355.00 up with +0.13% percent or +34.00 point.The S&P 500 Futures is trading at 2,782.50 with 0.00% percent or 0.00 point.The Nasdaq Futures is trading at 7,177.00 up with +0.01% percent or +0.50 point.
In overnight trading in the Eastern Hemisphere, Japan's Nikkei 225 is trading at 22,804.04 up with +0.48% percent or +109.54 point. Hong Kong's Hang Seng is trading at 31,046.63 up with +0.29% percent or +88.42 point. China's Shanghai Composite is trading at 3,043.51 with a loss of  0.77% percent or –23.64 point. India's BSE Sensex is trading at 35,614.05 up with +0.48% percent or  +169.58 point at 12:15 PM.The FTSE 100 is trading at 7,742.01 up with +0.79% percent or +60.94 point. Germany's DAX is trading at 12,820.46 up with +0.42% percent or +53.91 point. France's CAC 40 is trading at 5,462.97 up with +0.23% percent or +12.76 point. The Stoxx Europe 600 is trading at 386.94 up with +0.47% percent or +1.80 point.
Monday's Factors and Events
Tesla (NASDAQ: TSLA) stock surging about 10% higher on Wednesday, following the electric-car maker's 2018 annual shareholder meeting, the event undoubtedly included some insightful information. First, Tesla investors easily fended off a proposal to split founder CEO Elon Musk's chairman and CEO roles . The proposal aimed to strip Musk of his chairman position and to instead appoint an independent director as chairman. But other interesting items surfaced during the event, too.
Here are three of the most insightful quotes from the conference call (via an S&P Global Market Intelligence  transcript).
U.S. market were higher on Friday.For the day The Nasdaq Composite is trading at 7,645.51 up with +0.14% percent or  +10.44 point. the Dow is trading at 25,316.53 up with +0.30% percent or +75.12 point. The S&P 500 is trading at 2,779.03 up with  +0.31% percent or  +8.66 point.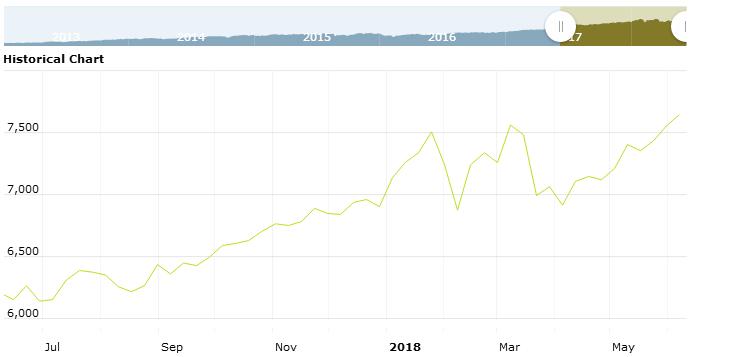 Other leading market index closes included the small-cap Russell 2000 Index closed at 1,672.49  up with +0.28% percent or+4.72 point; the S&P 600 Small-Cap Index closed at 1,038.61 up with +0.28% percent or +2.91 point; the S&P 400 Mid-Cap Index closed at 2,000.67 up with +0.50% percent or +9.89point; the S&P 100 Index closed at 1,221.79 up with +0.25% percent or +3.07 point; the Russell 3000 Index closed at 1,654.74  up with  +0.32% percent or +5.33 point; the Russell 1000 Index closed at 1,543.88 up with +0.33% percent or +5.02 point;