U.S. stock futures lower in pre-market trading for Tuesday, June 12. The Nasdaq Futures is trading at 7,187.00 with a loss of -0.13% percent or -9.00 point.The Dow Futures is trading at 25,311.00 with a loss of -0.15% percent or -37.00 point.The S&P 500 Futures is trading at 2,784.25 with a loss of -0.09% percent or -0.12% point.
In overnight trading in the Eastern Hemisphere, Japan's Nikkei 225 is trading at 22,878.35 up with +0.33% percent or +74.31 point. Hong Kong's Hang Seng is trading at 31,155.85 up with +0.30% percent or +92.15 point. China's Shanghai Composite is trading at 3,079.80 up with +0.89% percent or +27.02 point. India's BSE Sensex is trading at 35,677.17  up with +0.55% percent or  +193.70 point at 12:15 PM.The FTSE 100 is trading at 7,718.67 with a loss of –0.24% percent or –18.76 point. Germany's DAX is trading at 12,848.68 up with +0.040% percent or +5.16  point. France's CAC 40 is trading at 5,464.53 with a loss of –0.17% percent or –9.38 point. The Stoxx Europe 600 is trading at 388.31 up with +0.10% percent or +0.32 point.
Tuesday's Factors and Events
It seems we are in the midst of "summit season." After meeting with G7 leaders at the end of last week, President Trump went directly to Singapore to prepare for his meeting with the North Korean leader, Kim Jong Un. The historic nature of the meeting between Trump and Kim ensures that the second summit within a week is the one getting the lion's share of media attention, but for investors it is the first that has the biggest potential consequences.
Given that North Korea now has the capacity to deploy nuclear weapons, it is not surprising that when their relationship with America was dominated by threats and insults, the market showed some concern on several occasions. With the posturing over and talks about to begin though, traders and investors seem to be focusing on the positive possibilities.
For the day The Nasdaq Composite is trading at 7,659.93 up with +0.19% percent or  +14.41 point.the Dow is trading at 25,322.31  up with +0.023% percent or +5.78 point. The S&P 500 is trading at 2,782.00 up with  +0.31% percent or  +0.11% point.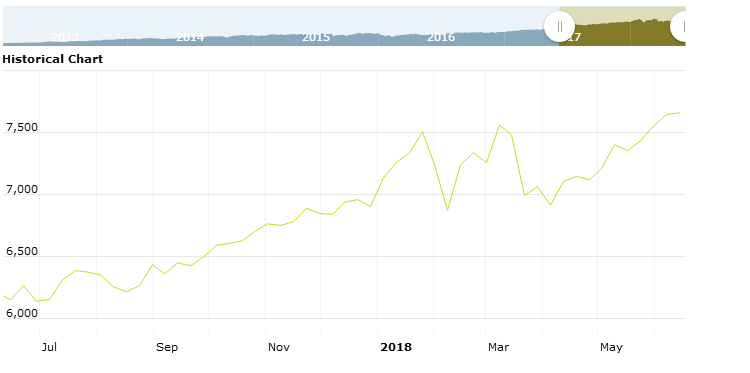 Other leading market index closes included the small-cap Russell 2000 Index closed at 1,674.68 up with +0.13% percent or+2.19 point; the S&P 600 Small-Cap Index closed at 1,041.08 up with +0.28% percent or +2.47 point; the S&P 400 Mid-Cap Index closed at 2,000.90  up with +0.011% percent or +0.23 9point; the S&P 100 Index closed at 1,222.43 up with +0.052% percent or +0.64 point; the Russell 3000 Index closed at 1,656.43 up with  +0.10% percent or +1.68 point; the Russell 1000 Index closed at 1,545.41 up with +0.099% percent or +1.53 point;