U.S. stock futures lower in pre-market trading for Friday, June 15. The Nasdaq Futures is trading at 7,296.25 with a loss of -0.21% percent or -15.00 point.The Dow Futures is trading at 25,065.00 with a loss of -0.58% percent or -141.00 point.The S&P 500 Futures is trading at 141.00 with a loss of -0.40% percent or -11.25 point.
In overnight trading in the Eastern Hemisphere, Japan's Nikkei 225 is trading at 22,851.75 up with +0.50% percent or +113.14 point. Hong Kong's Hang Seng is trading at 30,399.38 with a loss of –0.13% percent or –40.79 point. China's Shanghai Composite is trading at 3,022.93 with  a loss of –0.70% percent or –21.23 point. India's BSE Sensex is trading at 35,543.18 with a loss of –0.16% percent or  –56.64 point at 12:15 PM.The FTSE 100 is trading at 7,707.74  with a loss of –0.75% percent or –58.05 point. Germany's DAX is trading at 13,061.19 with  a loss of –0.35% percent or –45.91 point. France's CAC 40 is trading at 5,534.34 with +0.11% percent or +5.89 point. The Stoxx Europe 600 is trading at 391.52 with a loss of  –0.39% percent or –1.53 point.
Friday's Factors and Events
The tech-heavy Nasdaq rose 0.9 percent to 7,761.04 with Facebook also reaching a record high. Netflix and Alphabet also contributed to the index's gains. The S&P 500 also closed higher, climbing 0.3 percent to 2,7872.49.
Shares of Twenty-First Century Fox rose 2.1 percent after NBCUniversal-parent Comcast announced a bid to buy several major units of the media giant for $65 billion. Comcast's bid tops Disney's, which agreed to a $52.4 billion deal. Comcast shares rose 4.6 percent while Disney gained 1.3 percent.
"I think this is really their opportunity recreating a company that looks like Disney," said Rich Greenfield, an analyst at BTIG, on CNBC's "Squawk Box."
U.S. market were higher on Thursday.For the day The Nasdaq Composite is trading at 7,394.04 up with +0.54% percent or +39.70 point. the Dow is trading at 25,013.29 up with +1.21% percent or  +298.20 point. The S&P 500 is trading at 2,733.01  up with +0.74% percent or +20.04 point.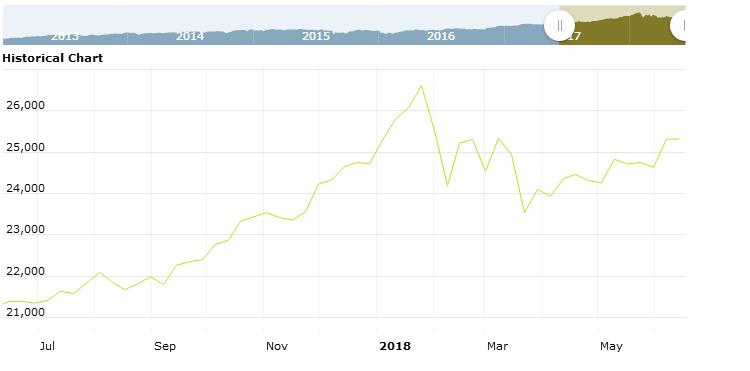 Other leading market index closes included the small-cap Russell 2000 Index closed at 1,637.44 up with +0.66% percent or +10.81 point; the S&P 600 Small-Cap Index closed at 1,011.82 up with +0.92% percent or +9.25 point; the S&P 400 Mid-Cap Index closed at 1,962.48 up with +0.98% percent or +19.11  point; the S&P 100 Index closed at 1,200.53 with +0.83% percent or +9.88 point; the Russell 3000 Index closed at 1,625.35 up with +0.74% percent or +11.87 point; the Russell 1000 Index closed at 1,516.88 up with +0.74% percent or +11.17 point;