U.S. stock futures lower in pre-market trading for Monday, June 18. The Nasdaq Futures is trading at 7,230.00 with a loss of -0.71% percent or -50.75 point.The Dow Futures is trading at 24,926.00  with a loss of  -0.73% percent or -183.00 point.The S&P 500 Futures is trading at 2,767.50 with a loss of  -0.61% percent or -17.00 point.
In overnight trading in the Eastern Hemisphere,Japan's Nikkei 225 is trading at 22,680.33  with a loss of -0.75% percent or -171.42 point. Hong Kong's Hang Seng is trading at 30,309.49 with a loss of -0.43% percent or -130.68 point. China's Shanghai Composite is trading at 3,021.90 with  a loss of -0.73%  percent or -22.26  point. India's BSE Sensex is trading at 35,607.38 with a loss of -0.041% percent or  -14.76 point at 12:15 PM.The FTSE 100 is trading at 7,606.10  with a loss of -0.37% percent or -27.91 point. Germany's DAX is trading at 12,832.39 with  a loss of -1.37% percent or -178.16 point. France's CAC 40 is trading at 5,433.42 with a loss of -1.24% percent or -68.46 point. The Stoxx Europe 600 is trading at 385.12 with a loss of  -1.02% percent or -3.97 point.
Monday's Factors and Events
talk savings. You might think that in order to become a millionaire, you'll need to part with a huge amount of money each month for your entire life. Not so. If you give yourself a long enough savings window, you can actually get away with saving a relatively small amount on a monthly basis, which won't have such a negative impact on your lifestyle. On the other hand, if you wait too long to start saving, you'll need to forgo a lot more cash on the regular, which means you might come to feel the pain.
Finally, let's talk investing. When you're young and first starting out, the best place to put your money is the stock market , because it has the potential to generate respectable returns. As you get older, you'll want to shift more of your money into safer investments, like bonds, but no matter where you are in life, stocks should always have a place in your portfolio.
U.S. market were lower on Friday.For the day The Nasdaq Composite is trading at 7,746.38 with a loss of 0.19% percent or -14.66 point. the Dow is trading at 25,090.48 with  a loss of -0.34% percent or -84.83 point. The S&P 500 is trading at 2,779.66 with a loss of -0.10% percent or  -2.83 point.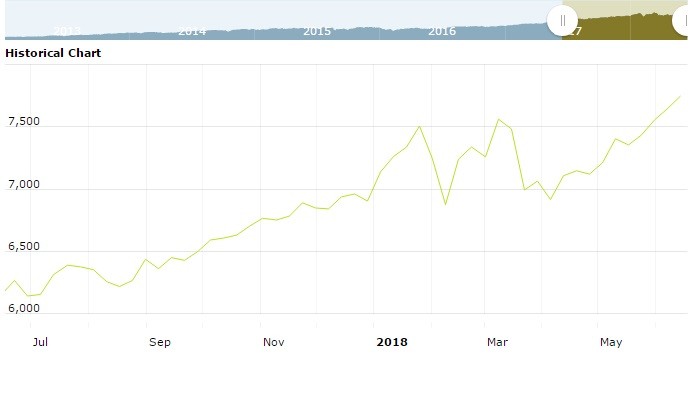 Other leading market index closes included the small-cap Russell 2000 Index closed at 1,683.91  with a loss of -0.048% percent or -0.82 point; the S&P 600 Small-Cap Index closed at 1,039.54 up with +0.043% percent or +0.45  point; the S&P 400 Mid-Cap Index closed at 1,992.37  with a loss of -0.17% percent or -3.33 point; the S&P 100 Index closed at 1,220.26 with a loss of -0.12% percent or -1.52 point; the Russell 3000 Index closed at
1,656.18 with a loss of  -0.087% percent or -1.45 point; the Russell 1000 Index closed at 1,544.43 with a loss of -0.091%  percent or  -1.40 point;