U.S. stock futures higher in pre-market trading for Wednesday, June 20. The Nasdaq Futures is trading at 7,277.50 up  with +0.35% percent or +25.25 point.The Dow Futures is trading at 24,837.00 up with +0.49% percent or +122.00 point. The S&P 500 Futures is trading at 2,775.50 up with +0.33% percent or +9.25 point.
In overnight trading in the Eastern Hemisphere,Japan's Nikkei 225 is trading at 22,555.43 up with +1.24% percent or  +276.95 point. Hong Kong's Hang Seng is trading at 29,718.61 up  with +0.85% percent or  +250.46 point. China's Shanghai Composite is trading at 2,915.73 up with +0.27%  percent or  +7.91  point. India's BSE Sensex is trading at +35,522.94  up with 0.67%  percent or  +236.20 point at 12:15 PM.The FTSE 100 is trading at 7,664.3  up with +0.80% percent or +60.48 point. Germany's DAX is trading at 12,686.42 up with +0.067% percent or +8.45 point. France's CAC 40 is trading at 5,398.39  up with +0.14% percent or +7.76 point. The Stoxx Europe 600 is trading at 385.33 up with +0.53% percent or +2.04 point.
Wednesday's Factors and Events
Bitcoin's rise has created new millionaires virtually overnight, application of the cryptocurrency in the real-world has so far remained a rarity. Several startups and smaller businesses have been attempting to use Bitcoin, Ethereum and blockchains.
Jeff Currie, global head of commodities research for Goldman Sachs Group has said that Bitcoin is a commodity with many similarities to gold and volatility sparking investor concerns comes mainly from the lack of liquidity.
In an interview to Bloomberg Television, Currie said, "I don't see why there is all this hostility to it," adding that Bitcoin is "not much different than gold" as it doesn't have liability attached to it by definition, like a security.
On Wednesday, Bitcoin breached the USD 11,000-mark before suffering an 18 percent plunge. The cryptocurrency recovered significantly. Bitcoin was trading at USD 10,739 when this story was published.
U.S. market were lower on Tuesday.For the day The Nasdaq Composite is trading at 7,725.58 with a loss of -0.28% percent or -21.44 point. the Dow is trading at 24,700.21 with  a loss of -1.15% percent or -287.26 point. The S&P 500 is trading at 2,762.59 with a loss of -0.40% percent or  -11.16 point.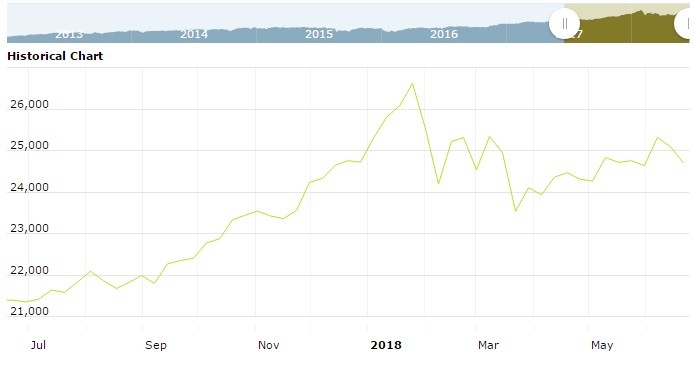 Other leading market index closes included the small-cap Russell 2000 Index closed at 1,683.91  with a loss of -0.048% percent or -0.82 point; the S&P 600 Small-Cap Index closed at 1,039.54 up with +0.043% percent or +0.45  point; the S&P 400 Mid-Cap Index closed at 1,992.37  with a loss of -0.17% percent or -3.33 point; the S&P 100 Index closed at 1,220.26 with a loss of -0.12% percent or -1.52 point; the Russell 3000 Index closed at 1,656.18 with a loss of  -0.087% percent or -1.45 point; the Russell 1000 Index closed at 1,544.43 with a loss of -0.091%  percent or  -1.40 point;