U.S. stock futures higher in pre-market trading for Friday, June 22. The Nasdaq Futures is trading at 7,262.75 up  with +0.35% percent or +25.00 point.The Dow Futures is trading at 24,570.00 up with +0.40% percent or +98.00 point. The S&P 500 Futures is trading at 2,764.25 up with +0.43% percent or +11.75 point.
In overnight trading in the Eastern Hemisphere, Japan's Nikkei 225 is trading at 22,516.83  with a loss of  -0.78% percent or -176.21 point. Hong Kong's Hang Seng is trading at 29,357.77 up with +0.21% percent or +61.72 point. China's Shanghai Composite is trading at 2,889.76 up with +0.49% percent or  +13.95  point. India's BSE Sensex is trading at 35,507.72 up with +0.21% percent or  +75.33 point at 12:15 PM.The FTSE 100 is trading at 7,620.92 up with +0.85% percent or +64.48 point. Germany's DAX is trading at 12,564.21 up with +0.42% percent or +52.30 point. France's CAC 40 is trading at 5,357.36  up with +0.78% percent or +41.35 point. The Stoxx Europe 600 is trading at 383.57 up with +0.72% percent or +2.73  point.
friday's Factors and Events
OSLO, June 21 (Reuters) – More than 20 nations ranging from Germany, France and Britain to Pacific island states said on Thursday they planned to "lead from the front" in setting new, tougher goals by 2020 to cut greenhouse gas emissions under the Paris climate agreement.
They welcomed a decision by U.N. Secretary-General Antonio Guterres to host a summit in September 2019 to review the fight against global warming since almost 200 governments signed up in 2015 for the Paris accord.
"We call on other countries to join us in expressing their desire to lead from the front."
The governments also said in a "Declaration for Ambition" that they would encourage long-term strategies for low emissions and new funds and investment in projects to help goals of the Paris Agreement.
Signatories were Argentina, Britain, Canada, Chile, Colombia, Costa Rica, Denmark, Ethiopia, Fiji, Finland, France, Germany, Maldives, Marshall Islands, Mexico, Monaco, the Netherlands, New Zealand, Norway, Rwanda, Saint Lucia, Spain and Sweden, a statement said.
U.S. market were lower on Thursday.For the day The Nasdaq Composite is trading at 7,712.95  with a loss of -0.88% percent or -68.56 point.the Dow is trading at 24,461.70 with  a loss of -0.80% percent or -196.10 point. The S&P 500 is trading at 2,749.76 with a loss of  -0.63% percent or  -17.56 point.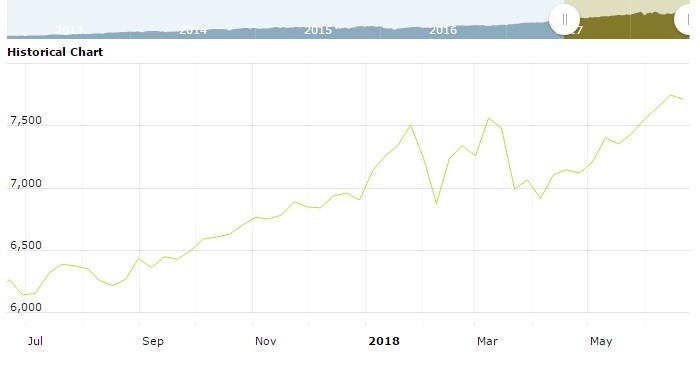 Other leading market index closes included the small-cap Russell 2000 Index closed at 1,688.95  with a loss of  -1.06% percent or  -18.04 point; the S&P 600 Small-Cap Index closed at 1,042.41 with a loss of -0.95% percent        or -9.99  point; the S&P 400 Mid-Cap Index closed at 1,987.34 with a loss of -0.72% percent or -14.45 point;the S&P 100 Index closed at 1,207.08 with a loss of -0.68% percent or -8.21 point; the Russell 3000 Index closed at 1,640.93 with a loss of  -0.70% percent or -11.51 point; the Russell 1000 Index closed at 1,528.58 with a loss of -0.66%  percent or  -10.23  point;