U.S. stock futures lower in pre-market trading for Tuesday, June 26. The Nasdaq Futures is trading at 7,066.75 with a loss of  -0.10% percent or -6.75 point.The Dow Futures is trading at 24,235.00 with  a loss of -0.18% percent or  -44.00 point. The S&P 500 Futures is trading at 2,716.75 with  a loss of -0.20% percent or  -5.50 point.
In overnight trading in the Eastern Hemisphere, Japan's Nikkei 225 is trading at 22,342.00 up with  +0.017% percent or +3.85 point. Hong Kong's Hang Seng is trading at 28,876.95 with a loss of -0.29% percent or -84.44 point. China's Shanghai Composite is trading at 2,844.51 with a loss of  -0.52% percent or  -14.83 point. India's BSE Sensex is trading at 35,492.88 up with +0.064% percent or +22.53 point at 12:15 PM.The FTSE 100 is trading at 7,547.53 UP with + 0.50% percent or  +37.69 point. Germany's DAX is trading at 12,269.39  with a loss of  -0.0077% percent or  -0.94 point. France's CAC 40 is trading at 5,298.94  UP  with +0.29% percent or +15.08 point. The Stoxx Europe 600 is trading at 377.68 up with +0.16% percent or +0.59 point.
Tuesday's Factors and Events
(NASDAQ: AMD) graphics cards has risen sharply in the past year thanks to demand from cryptocurrency miners, allowing it to take a big bite out ofarchrival NVIDIA 's GPU (graphics processing unit) market share. In fact, AMD commanded close to 35% of the discrete GPU market at the end of the first quarter of 2018, according to Jon Peddie Research, up from 27.5% in the prior-year period.
But AMD's crypto-driven boost could be about to end as a dedicated and more affordable mining chip comes into the market, so this isn't a catalyst that will stay around in the long run. Instead, the multibillion-dollar server chip market looks like the more sustainable catalyst for AMD.
U.S. market were lower on Monday.For the day The Nasdaq Composite is trading at 7,532.01 with a loss of -2.09% percent or -160.81 point.the Dow is trading at 24,252.80 with a loss of -1.33% percent or -328.09 point. The S&P 500 is trading at 2,717.07  with a loss of -1.37% percent or  -37.81 point.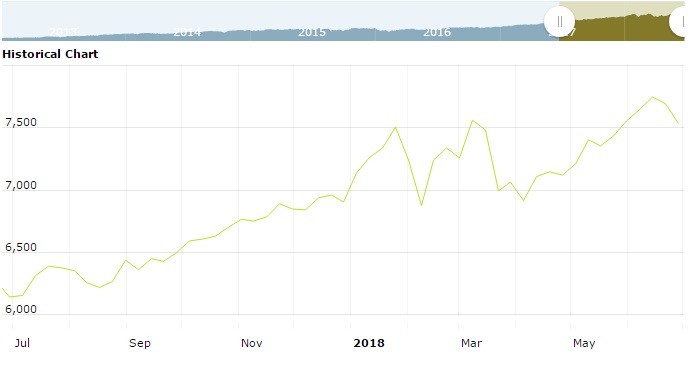 Other leading market index closes included the small-cap Russell 2000 Index closed at 1,657.51 with a loss of  -1.67% percent or  -28.07 point; the S&P 600 Small-Cap Index closed at 1,025.84 with a loss of  -1.60% percent or  -16.73  point; the S&P 400 Mid-Cap Index closed at 1,960.90 with a loss of  -1.44% percent or  -28.71 point; the S&P 100 Index closed at 1,191.80 with a loss of  -1.48% percent or -17.90 point; the Russell 3000 Index closed at 1,619.78  with a loss of  -1.44% percent or -23.62 point; the Russell 1000 Index closed at 1,509.63  with a loss of -1.42% percent or  -21.71 point;