U.S. stock futures lower in pre-market trading for Wednesday, June 27. The Nasdaq Futures is trading at 7,049.75 with a loss of  -0.76% percent or -54.25 point.The Dow Futures is trading at 24,190.00 with  a loss of -0.46% percent or  -113.00 point. The S&P 500 Futures is trading at 2,718.75 with  a loss of -0.36% percent or  -9.75 point.
In overnight trading in the Eastern Hemisphere, Japan's Nikkei 225 is trading at 22,271.77  with a loss of – 0.31% percent or -70.23 point. Hong Kong's Hang Seng is trading at 28,362.09 with a loss of -1.80% percent or -519.31 point. China's Shanghai Composite is trading at 2,813.18 with a loss of  -1.10% percent or  -31.33 point. India's BSE Sensex is trading at 35,252.78  with  a loss of -0.67% percent or  -237.26 point at 12:15 PM..The FTSE 100 is trading at 7,559.66 UP with + 0.29% percent or  +21.74 point. Germany's DAX is trading at 12,258.27 UP with +0.20% percent or +23.93 point. France's CAC 40 is trading at 5,290.29  UP  with +0.17% percent or +9.00 point. The Stoxx Europe 600 is trading at 377.40 up with +0.03% percent or +0.12 point.
Wednesday's Factors and Events
Instagram has really taken off over the past year, with user growth accelerating while theFacebook (NASDAQ: FB) subsidiary continues to add more and more features to the already popular photo- and video-sharing service. That includes everything from new e-commerce features to the recent launch of IGTV , a long-form video content platform. At least one Street analyst is modeling for Instagram to generate nearly $9 billion in revenue this year.
In a stunning new estimate released yesterday, Instagram could be worth $100 billion — representing over a sixth of Facebook's current market cap (roughly $575 billion).
Bloomberg Intelligence is estimating that Instagram's valuation could be in 12-digit territory, which would represent a 100-fold return for Facebook after acquiring the fledgling service back in 2012 for $1 billion. In fact, the final price tag upon closing was actually lower, just $715 million , due to stock price fluctuations related to the stock portion of the deal, making Facebook's return even greater — a nearly 140-fold return.
For the day The Nasdaq Composite is trading at 7,561.63 up with +0.39% percent or +29.62 point. the Dow is trading at 24,283.11 up  with +0.12% percent or  +30.31 point. The S&P 500 is trading at 2,723.06  up with +0.22% percent or  +5.99 point.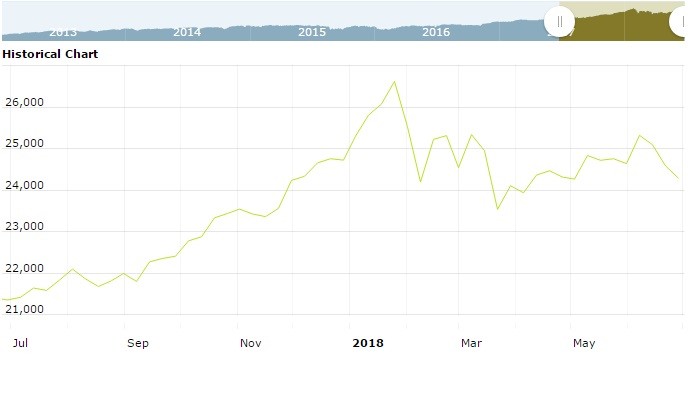 Other leading market index closes included the small-cap Russell 2000 Index closed at 1,668.53 up with +0.66% percent or +11.02 point; the S&P 600 Small-Cap Index closed at 1,033.31 up with +0.73% percent or  +7.47  point; the S&P 400 Mid-Cap Index closed at 1,965.11 up with +0.21% percent or +4.21 point; the S&P 100 Index closed at 1,195.14 up with +0.28% percent or +3.34 point; the Russell 3000 Index closed at 1,624.09 up with +0.27% percent or +4.32 point; the Russell 1000 Index closed at 1,513.14 up with +0.23% percent or +3.51 point;