U.S. stock futures higher in pre-market trading for Thursday, June 28. The Nasdaq Futures is trading at 7,013.25 up with +0.21% percent or +20.00 point.The Dow Futures is trading at 24,177.00 up with +0.17% percent or +42.00 point. The S&P 500 Futures is trading at 2,710.50 up with +0.20% percent or +5.50 point.
In overnight trading in the Eastern Hemisphere, Japan's Nikkei 225 is trading at 22,270.39 with a loss of – 0.0062% percent or -1.38 point. Hong Kong's Hang Seng is trading at 28,468.11 up with + 0.39% percent or +111.51 point. China's Shanghai Composite is trading at 2,786.90 with a loss of  -0.93% percent or  -26.28 point. India's BSE Sensex is trading at 35,139.80 with  a loss of -0.22% percent or  -77.31 point at 12:15 PM.The FTSE 100 is trading at 7,607.55  with a loss of  -0.19% percent or  -14.45 point. Germany's DAX is trading at 12,268.27  with a loss of -0.65% percent or -80.34 point. France's CAC 40 is trading at 5,310.79   with a loss of  -0.31% percent or -16.41 point. The Stoxx Europe 600 is trading at 378.14  with a loss of  -0.49% percent or –0.53 point.
Thursday's Factors and Events
The first thing to do is to seek out the opposite view to your own. Your idea may seem so obvious to you, or the logic of a pundit like myself seem so convincing, that it is easy to forget one basic fact: When a stock trade is executed, there is a buyer and a seller, and both are acting in what they believe is their best interest. As strongly as you may feel that a stock is a buy, somebody somewhere feels just as strongly that it is a sell.
For most stocks traded on a major exchange, a simple internet search will reveal a host of articles, some positive and some negative. Read a representative sample of both. Sometimes the opposite view makes more sense than your original opinion, or at least as much. If that is the case, stop there and look for something else to buy.
If you are still convinced that your idea is sound, it is time to start researching the company whose stock you are considering.
For the day The Nasdaq Composite is trading at 7,445.08  with a loss of -1.54% percent or  -116.54 point. the Dow is trading at 24,117.59 with a loss of -0.68% percent or  -165.52 point. The S&P 500 is trading at 2,699.63 with a loss of -0.86% percent or -23.43 point.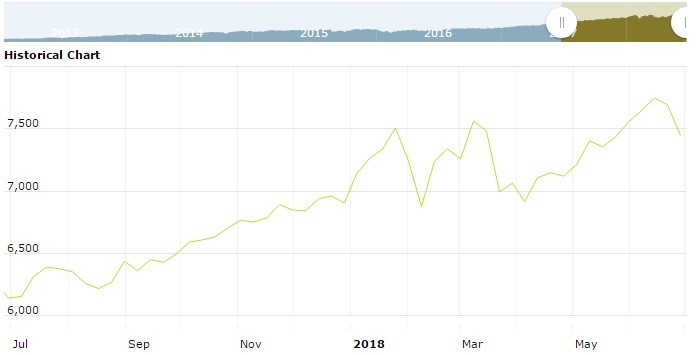 Other leading market index closes included the small-cap Russell 2000 Index closed at 1,640.45 with a loss of -1.68% percent or -28.07 point; the S&P 600 Small-Cap Index closed at 1,017.36 with a loss of -1.54% percent or -15.95 point; the S&P 400 Mid-Cap Index closed at 1,942.81 with a loss of  -1.13% percent or -22.30 point; the S&P 100 Index closed at 1,185.25 with a loss of  -0.83% percent or -9.89 point; the Russell 3000 Index closed at 1,608.39 with a loss of  -0.97% percent or  -15.70 point; the Russell 1000 Index closed at 1,499.44  with a loss of -0.91% percent or -13.70 point;