U.S. stock futures higher in pre-market trading for Thursday, July 05. The Nasdaq Futures is trading at 7,051.00 up with +0.39% percent or +27.25 point.The Dow Futures is trading at 24,244.00 up with +0.34% percent or +81.00 point.The S&P 500 Futures is trading at 2,725.00 up with +0.30% percent or +0.43% point.
In overnight trading in the Eastern Hemisphere, Japan's Nikkei 225 is trading at 21,546.99 with a loss of -0.78% percent or -170.05 point. Hong Kong's Hang Seng is trading at 27,933.90 with a loss of -1.09% percent or -307.77 point. China's Shanghai Composite is trading at 2,731.43 with a loss of -1.00% percent or -27.70 point. India's BSE Sensex is trading at 35,563.48  with  a loss of -0.23% percent or  -81.92 point at 12:15 PM.The FTSE 100 is trading at 7,603.45 up with +0.40% percent or  +30.36 point. Germany's DAX is trading at 12,442.89  up with +1.04% percent or  +128.09 point. France's CAC 40 is trading at 5,362.80 up with +0.80% percent or  +42.31 point. The Stoxx Europe 600 is trading at 381.89 up with +0.48% percent or +1.92 point.
Thursday's Factors and Events
Evestment would represent Nasdaq's second acquisition since Adena Friedman took over as the exchange operator's chief executive in January.
Friedman, a vocal advocate for investing more in innovative technologies such as cognitive computing, also oversaw Nasdaq's July purchase of London-based startup, Sybenetix.
Sybenetix uses artificial intelligence to help compliance officers at asset management firms analyze the behavior of their traders in order to prevent market abuse.
Nasdaq also closed several acquisitions last year, including options exchange operator International Securities Exchange.
For the day The Nasdaq Composite is trading at 7,502.67 with  a loss of -0.86% percent or -65.01 point. the Dow is trading at 24,174.82 with  a loss of -0.54% percent or  -132.36 point. The S&P 500 is trading at 2,713.22  with a loss of -0.49% percent or -13.49 point.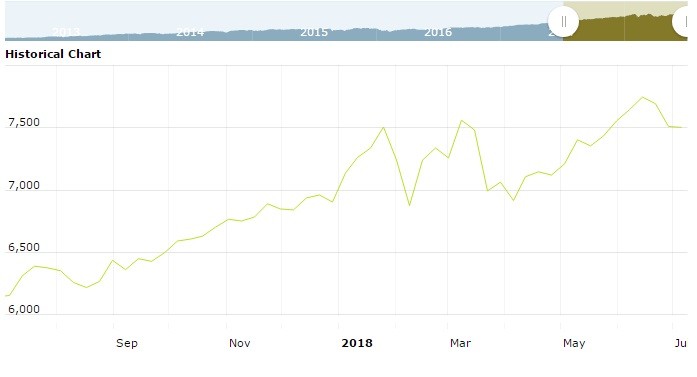 Other leading market index closes included the small-cap Russell 2000 Index closed at 1,660.42 up with +0.32% percent or +5.33 point; the S&P 600 Small-Cap Index closed at 1,028.93 up with +0.16% percent or +1.65 point; the S&P 400 Mid-Cap Index closed at 1,957.35 up with +0.19% percent or +3.70 point; the S&P 100 Index closed at 1,191.76 with a loss of -0.64% percent or -7.70 point; the Russell 3000 Index closed at 1,618.04 with a loss of -0.39% percent or – 6.35  point; the Russell 1000 Index closed at 1,507.65 with a loss of -0.45% percent or -6.84 point;