U.S. stock futures higher in pre-market trading for Wednesday, July 04. The Nasdaq Futures is trading at 7,047.75 up with +0.34% percent or +24.00 point.The Dow Futures is trading at 24,222.00 up with +0.24% percent or +59.00 point. The S&P 500 Futures is trading at 2,721.50 up with +0.30% percent or +8.25 point.
In overnight trading in the Eastern Hemisphere, Japan's Nikkei 225 is trading at 21,717.04 with a loss of -0.31% percent or -68.50 point. Hong Kong's Hang Seng is trading at 28,267.71 with a loss of -0.97% percent or -277.86 point. China's Shanghai Composite is trading at 2,759.13  with a loss of -1.00% percent or -27.76 point. India's BSE Sensex is trading at 35,524.31 up with +0.41% percent or +145.71 point at 12:15 PM.The FTSE 100 is trading at 7,579.17 with  a loss of -0.19% percent or -14.12 point. Germany's DAX is trading at 12,339.63   with a loss of  -0.077% percent or  -9.51 point. France's CAC 40 is trading at 5,331.48 up with +0.28%% percent or  +14.72 point. The Stoxx Europe 600 is trading at 380.34 up with +0.15% percent or +0.60 point.
Wednesday's Factors and Events
Alphabet 's (NASDAQ: GOOG) (NASDAQ: GOOGL) Google could be developing a new cloud gaming service and console according to a recent Kotaku report citing five anonymous sources. Google also reportedly plans to lure developers to a new game publishing platform, or acquire them outright.
If Google moves forward with these plans, it could disrupt the business of leading console makers and game publishers. However, investors should take this report with a grain of salt, since Google has a long history of fragmented gaming efforts.
Google entered the gaming market with its Android Market app store in 2008. By taking a 30% cut of paid apps and in-app purchases (which was recently lowered to 15%), it turned mobile games into a lucrative new revenue stream.
Google eventually replaced Android Market with Google Play, a more diversified digital storefront for games, videos, books, and other content. In 2013 it launched Google Play Games, an online gaming service that added multiplayer capabilities, cloud saves, achievements, and social rankings to Android games.
For the day The Nasdaq Composite is trading at 7,502.6  with  a loss of -0.86% percent or -65.01 point. the Dow is trading at 24,174.82 with  a loss of -0.54% percent or  -132.36 point. The S&P 500 is trading at 2,713.22  with a loss of -0.49% percent or -13.49 point.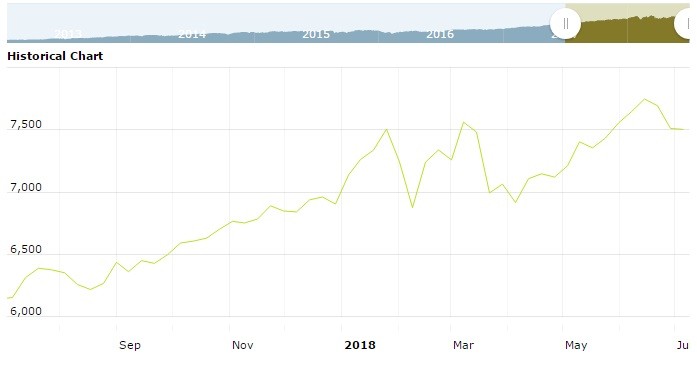 Other leading market index closes included the small-cap Russell 2000 Index closed at 1,660.42 up with +0.32% percent or +5.33 point; the S&P 600 Small-Cap Index closed at 1,028.93 up with +0.16% percent or +1.65 point; the S&P 400 Mid-Cap Index closed at 1,957.35 up with +0.19% percent or +3.70 point; the S&P 100 Index closed at 1,191.76 with a loss of -0.64% percent or -7.70 point; the Russell 3000 Index closed at 1,618.04  with a loss of -0.39% percent or – 6.35  point; the Russell 1000 Index closed at 1,507.65  with a loss of -0.45% percent or -6.84 point;