U.S. stock futures higher in pre-market trading for Tuesday, July 03. The Nasdaq Futures is trading at 7,150.25 up with +0.47% percent or +33.75 point.The Dow Futures is trading at 24,404.00 up with +0.49% percent or +118.00 point. The S&P 500 Futures is trading at 2,738.00 up with +0.39% percent or +10.75 point.
In overnight trading in the Eastern Hemisphere, Japan's Nikkei 225 is trading at 21,785.54 with a loss of -0.12% percent or -26.39 point. Hong Kong's Hang Seng is trading at 28,462.30 with a loss of -1.70% percent or -492.81 point. China's Shanghai Composite is trading at 2,786.89 up with +0.41% percent or +11.33 point. India's BSE Sensex is trading at 35,388.01 up with +0.35% percent or +123.60 point at 12:15 PM.The FTSE 100 is trading at 7,592.43 up with 0.59% percent or +44.58 point. Germany's DAX is trading at 12,409.31  up with 1.40% percent or +171.14 point. France's CAC 40 is trading at 5,329.30 up with 1.00% percent or +52.55 point. The Stoxx Europe 600 is trading at 380.49 up with 0.99% percent or +3.74 point.
Tuesday's Factors and Events
Fossils have added to pollution and toxins to the environment and also causing increased number of occupational diseases. Each stage of the fossil fuel supply chain – extraction through mining and drilling, transportation (spills), burning, fuel waste has had multiple damaging effects on humans and to all the components of our environment—water, land and air.
Despite the fallout of using fossil fuel, there is still a shortage of basic resources like electricity. An estimated 1.1 billion people have no access to electricity while 2.8 billion are without access to clean cooking facilities.
The concerns about climate change brought nations together to sign the Paris Accord in December 2015. It is estimated that renewable energy (RE) and energy efficiency (EE) in developing countries will prevent 1.4 gigatons of emissions by 2020 and implementing these projects in developing countries can go a long way to making up shortfalls in Paris climate pledges, according to a report by UNEP and Norwegian Ministry of Foreign Affairs.
For the day The Nasdaq Composite is trading at 7,567.69 up with +0.76% percent or +57.38 point.the Dow is trading at 24,307.18 up with +0.15% percent or +35.77 point. The S&P 500 is trading at 2,726.71 up with +0.31% percent or  +8.34 point.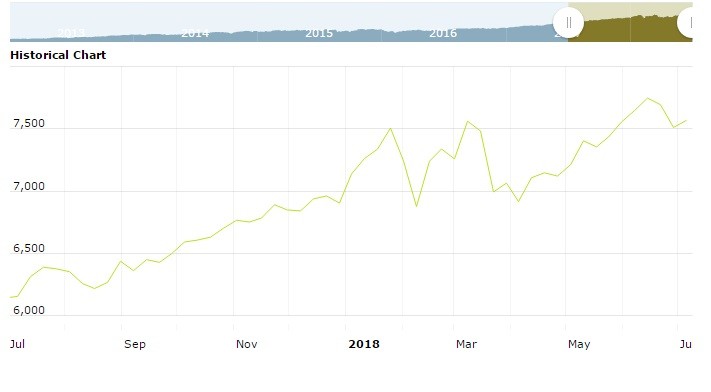 Other leading market index closes included the small-cap Russell 2000 Index closed at 1,655.09 up with +0.73% percent or +12.02 point; the S&P 600 Small-Cap Index closed at 1,027.28 up with 0.97% percent or +9.90 point; the S&P 400 Mid-Cap Index closed at 1,953.65 up with +0.10% percent or +1.98 point; the S&P 100 Index closed at 1,199.46 up with 0.42% percent or +4.96 point; the Russell 3000 Index closed at 1,624.39 up with 0.33% percent or +5.40 point; the Russell 1000 Index closed at 1,514.49 up with 0.30% percent or +4.53 point;