U.S. stock futures higher in pre-market trading for Tuesday, July 10.The Nasdaq Futures is trading at 7,322.25 up with +0.35% percent or +25.25 point.The Dow Futures is trading at 24,836.00 up with +0.25% percent or +62.00 point. The S&P 500 Futures is trading at 2,793.25 up with +0.21% percent or +5.75 point.The Nasdaq Futures is trading at 7,322.25 up with +0.35% percent or +25.25 point.
Tuesday's Factors and Events
For many people worldwide, opportunities for travel have become their raison d'être. But these nomadic explorations often entail booking a hotel stay or other form of lodging accommodation, which can easily put a damper on the carefree sense of adventure that travelers are seeking.
In recent years, Airbnb has become a popular online destination for those seeking vacation rentals, apartment housing, homestays, hostel beds or hotel rooms. Recently, a new startup known as CryptoCribs has entered this competitive space, providing travelers with a direct marketplace where they can pay for their stays in cryptocurrency.
Take a quick glance at the CryptoCribs website and you'll see that it yields a similar look to that of Airbnb. The homepage is emblazoned with pictures and descriptions of rental option listings throughout the world. Yet the philosophy of the two companies couldn't be more different. The biggest distinguishing factor? CryptoCribs makes use of blockchain technology to run a decentralized data network. This means that landlords and tenants on the ecosystem have ownership of the database, as well as a voice as to how the platform is managed.
For the day  Nasdaq Composite is trading at 7,756.20 up with +0.88% percent or  +67.81 point. the Dow is trading at 24,776.59 up with +1.31% percent or +320.11 point. The S&P 500 is trading at 2,784.17 up with +0.88% percent or +24.35 point.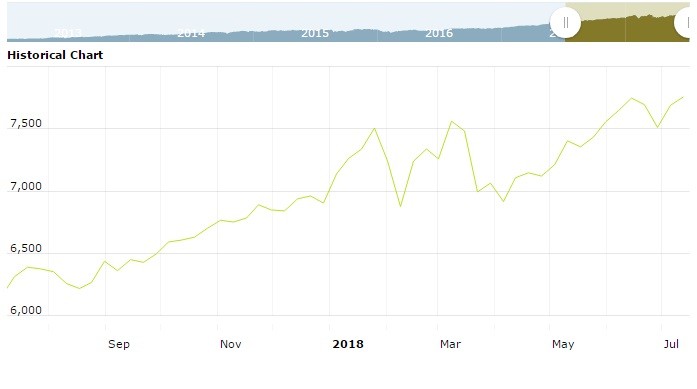 Other leading market index closes included the small-cap Russell 2000 Index closed at 1,704.60 up with +0.62% percent or +10.55 point; the S&P 600 Small-Cap Index closed at 1,057.32 up with +0.70% percent or +7.38 point; the S&P 400 Mid-Cap Index closed at 2,009.15 up with 0.99% percent or +19.66 point; the S&P 100 Index closed at 1,224.88 up with 0.95% percent or +11.54 point; the Russell 3000 Index closed at 1,660.43 up with +0.86% percent or +14.13  point; the Russell 1000 Index closed at 1,547.10 up with +0.88% percent or +13.48 point;