U.S. stock futures lower in pre-market trading for Wednesday, July 11.The Nasdaq Futures is trading at 7,238.00  with a loss of -0.87% percent or -63.50 point.The Dow Futures is trading at 24,722.00  with a loss of  -0.82% percent or -205.00 point. The S&P 500 Futures is trading at 2,777.50  with a loss of -0.69% percent or  -19.25 point.
Wednesday's Factors and Events
U.S. stock index futures tanked ahead of Wednesday's open, as a trade spat between the U.S. and other major economies intensified.
Around 6:50 a.m. ET, Dow Jones Industrial Average futures indicated a negative open of about 175 points. Nasdaq 100 and the S&P 500 futures also indicated sharp losses at the start to their respective trading sessions.
Trade anxieties ramped up again late on Wednesday after President Donald Trump and his administration published late Tuesday a list of 10 percent duties on $200 billion worth of Chinese goods. The tariffs won't come into effect immediately, but rather face a review process, with hearings taking place in mid-to-late August.
The announcement came just days after both nations imposed $34 billion worth of tariffs on each other.
For the day the Dow is trading at 24,919.66 up with +0.58% percent or +143.07 point. The Nasdaq Composite is trading at 7,759.20 up with +0.039% percent or  +3.00 point.The S&P 500 is trading at 2,793.84 up with +0.35% percent or +9.67 point.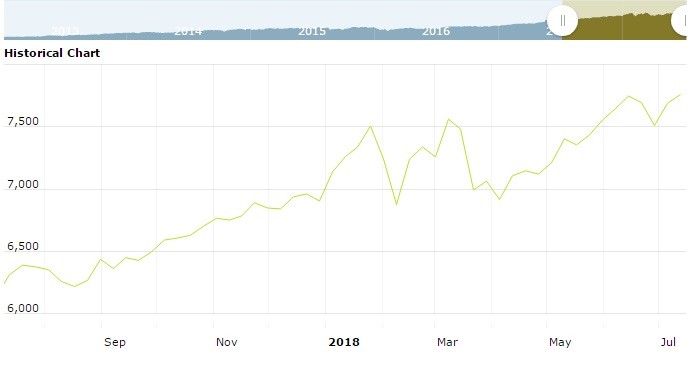 Other leading market index closes included the small-cap Russell 2000 Index closed at 1,695.62  with a loss of -0.53% percent or -8.99 point; the S&P 600 Small-Cap Index closed at 1,052.39  with  a loss of -0.47% percent or -4.93 point; the S&P 400 Mid-Cap Index closed at 2,008.12  with a loss of -0.051% percent or -1.03 point; the S&P 100 Index closed at 1,229.89 up with +0.41% percent or +5.01 point; the Russell 3000 Index closed at 1,664.53 up with +0.25% percent or +4.10  point; the Russell 1000 Index closed at 1,551.94 up with +0.31% percent or +4.84 point;