U.S. stock futures hgher in pre-market trading for Thursday, July 12.The Nasdaq Futures is trading at 7,285.25 up with +0.43% percent or +31.50 point.The Dow Futures is trading at 24,848.00 up with +0.64% percent or +159.00 point. The S&P 500 Futures is trading at 2,787.25 up with +2,787.25 percent or +13.75 point.
Thursday's Factors and Events
If you have doubts whether to invest your money in stocks or bonds, one important financial parameter that can show you the right direction is earnings yield. It is the reciprocal of the price-to-earnings (P/E) ratio. This ratio can be successfully used for finding out undervalued stocks. Also, this ratio can be utilized for comparing stocks with the market or fixed income securities.
This ratio can be used for comparing the performance of the market with the 10-year Treasury yield. When the yield of the market index is higher than the 10-year Treasury yield, stocks can be viewed as undervalued in comparison to bonds. This means that investing in the stock market is a better choice for a value investor.
For the day The Nasdaq Composite is trading at 7,716.61 with a loss of  -0.55% percent or -42.59 point.the Dow is trading at 24,700.45 with a loss of -0.88% percent or -219.21 point. The S&P 500 is trading at 2,774.02  with a loss of  -0.71% percent or -19.82 point.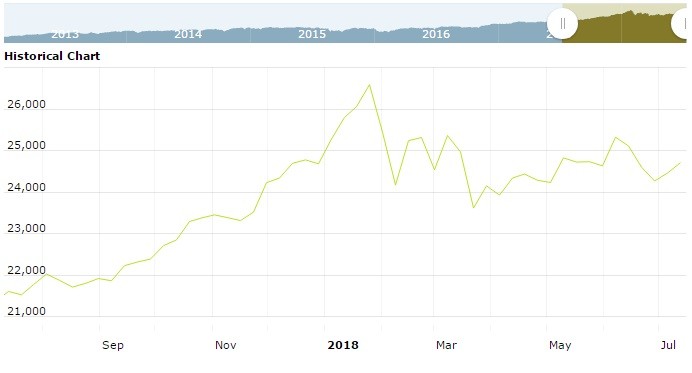 Other leading market index closes included the small-cap Russell 2000 Index closed at 1,683.66 with a loss of -0.71% percent or -11.96 point; the S&P 600 Small-Cap Index closed at 1,044.24  with  a loss of -0.77% percent or -8.15 point; the S&P 400 Mid-Cap Index closed at 1,991.48 with a loss of -0.83% percent or -16.64 point; the S&P 100 Index closed at 1,221.77 with a loss of  -0.66% percent or -8.12 point; the Russell 3000 Index closed at 1,652.86 with  a loss of -0.70% percent or -11.67  point; the Russell 1000 Index closed at 1,541.07 with  a loss of -0.70% percent or -10.87 point;