U.S. stock futures lower in pre-market trading for Friday, July 20.The Nasdaq Futures is trading at 7,370.75 up with +0.04% percent or +3.00 point.The Dow Futures is trading at 24,954.00  with a loss of -0.42% percent or -105.00 point. The S&P 500 Futures is trading at 2,798.25 with a loss of -0.25% percent or -7.00 point.
In overnight trading in the Eastern Hemisphere, Japan's Nikkei 225 is trading at22,697.88 with a loss of -0.29% percent or -66.80 point. Hong Kong's Hang Seng is trading at 28,223.93 up with +0.76% percent or +213.07 point. China's Shanghai Composite is trading at 2,829.27 up with +2.05% percent or  +56.73 point. India's BSE Sensex is trading at 36,457.64 up with  + 0.29% percent or +103.70  point at 12:15 PM.The FTSE 100 is trading at 7,669.02  with a loss of – 0.19% percent or  -14.95 point. Germany's DAX is trading at 12,624.91 with a loss of -0.48% percent or -61.38 point. France's CAC 40 is trading at 5,382.28   with a loss of -0.64% percent or -34.79 point. The Stoxx Europe 600 is trading at 385.17 with a loss of -385.17 percent or -0.91 point.
Friday's Factors and Events
For many people, the recent direction of the stock market is somewhat puzzling. Even as trade wars have moved from being a threat to a reality, stocks have continued to climb higher, almost to the point of a complete recovery from the drop caused by the idea of tariff imposition earlier this year.
At that time, the view that I espoused, that imposing tariffs was a danger to the continued recovery of both the economy and the stock market, was commonplace. Stocks did decline in the month or so following the announcements, but despite the situation worsening since then, the S&P 500 has recovered to a higher level than it was when the first round of trade restrictions were announced.
For the day The Nasdaq Composite is trading at 7,825.30  with a loss of -0.37% percent or  -29.15 point.the Dow is trading at 25,064.50 with a loss of -0.53% percent or  -134.79 point. The S&P 500 is trading at 2,804.49  with a loss of -0.40% percent or -11.13 point.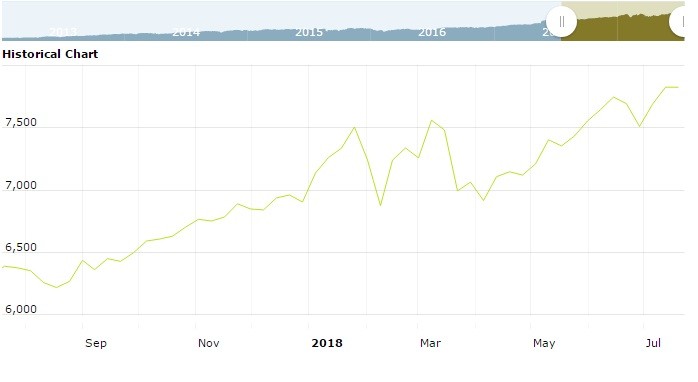 Other leading market index closes included the small-cap Russell 2000 Index closed at 1,701.31 up with +0.56% percent or +9.44 point; the S&P 600 Small-Cap Index closed at 1,058.97 up with +0.65% percent or +6.84 point; the S&P 400 Mid-Cap Index closed at 2,009.05 up with +0.39% percent or +7.80 point; the S&P 100 Index closed at 1,235.98  with a loss of – 0.53% percent or  -6.62 point; the Russell 3000 Index closed at 1,670.79  with a loss of -0.28% percent or -4.66  point; the Russell 1000 Index closed at 1,557.83 with a loss of -0.35% percent or -5.45 point;