U.S. stock futures lower in pre-market trading for Monday, July 23.The Nasdaq Futures is trading at 7,329.75  with a loss of  -0.41% percent or -30.25 point.The Dow Futures is trading at 25,014.00 with a loss of -0.06% percent or -16.00 point. The S&P 500 Futures is trading at 2,798.75 with a loss of -0.07% percent or -2.00 point.
In overnight trading in the Eastern Hemisphere, Japan's Nikkei 225 is trading at 22,396.99 with a loss of -1.33% percent or -300.89 point. Hong Kong's Hang Seng is trading at 28,292.91 up with +0.24% percent or +68.43 point. China's Shanghai Composite is trading at 2,857.89 up with +1.01% percent or  +29.08 point. India's BSE Sensex is trading at 36,581.36 up with  + 0.23% percent or +84.99  point at 12:15 PM.The FTSE 100 is trading at 7,646.32 with a loss of – 0.42% percent or  -32.47 point. Germany's DAX is trading at 12,503.45 with a loss of -0.46% percent or -57.97 point. France's CAC 40 is trading at 5,362.47   with a loss of -0.66% percent or -35.85 point. The Stoxx Europe 600 is trading at 384.38 with a loss of -0.32% percent or -1.23 point.
Monday's Factors and Events
Bitcoin prices climbed nearly 10 percent to hit $7,500 in Today trading, a level they last touched nearly six weeks ago, after BlackRock. Inc. announced that it was evaluating blockchain technology and cryptocurrencies like bitcoin.
BlackRock is the world's largest asset manager and ETF provider with about $6.3 trillion in assets under management, including owning 40 percent of the $5-trillion ETF market.
BlackRock CEO Larry Fink was, however, quick to temper expectations by saying that the company is still studying cryptos though it does not foresee huge demand.
But that has not stopped analysts weighing in on the latest development in cryptoland.
According to Chris Yoo, portfolio manager at Black Square Capital Management LLC. the interest by the largest asset manager in the world would be a catalyst for upward price movement for bitcoin even if BlackRock were to use more conservative investment strategies.
For the day The Nasdaq Composite is trading at 7,820.20 with a loss of -0.065% percent or  -5.10 point. the Dow is trading at 25,058.12 with a loss of -0.025% percent or  -6.38 point. The S&P 500 is trading at 2,801.83  with a loss of -0.095% percent or -2.66 point.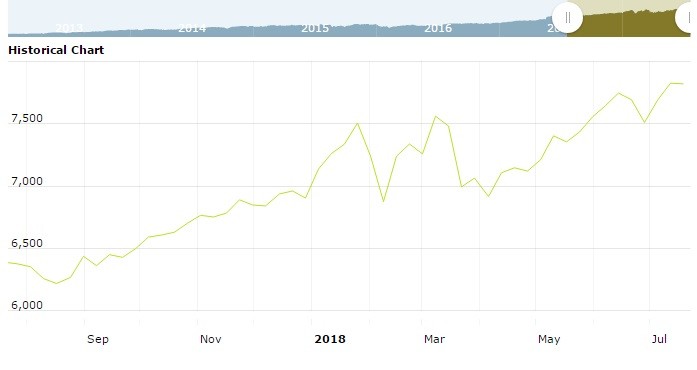 Other leading market index closes included the small-cap Russell 2000 Index closed at 1,696.81 with a loss of -0.26% percent or -4.50 point; the S&P 600 Small-Cap Index closed at 1,055.99  with a loss of -0.28% percent or -2.98 point; the S&P 400 Mid-Cap Index closed at 1,998.36 with a loss of -0.53% percent or -10.69 point; the S&P 100 Index closed at 1,236.33 up with +0.028% percent or +0.35 point; the Russell 3000 Index closed at 1,668.44 with a loss of -0.14% percent or -2.35 point; the Russell 1000 Index closed at 1,555.80 with a loss of -0.13% percent or -2.03 point;