U.S. stock futures mixed in pre-market trading for Wednesday, July 25.The Nasdaq Futures is trading at 7,417.75 up with +0.02% percent or +1.75 point.The Dow Futures is trading at 25,213.00 with 0.00% percent or -1.00 point. The S&P 500 Futures is trading at 2,818.75 with a loss of -0.08% percent or – 2.25 point.
In overnight trading in the Eastern Hemisphere, Japan's Nikkei 225 is trading at 22,614.25 up with 0.46% percent or +103.77 point. Hong Kong's Hang Seng is trading at 28,923.52 up with +0.91% percent or +260.95 point. China's Shanghai Composite is trading at 2,903.65  with  a loss of  -0.066% percent or ?1.92 point. India's BSE Sensex is trading at 36,915.78 up with  +0.25% percent or +90.68  point at 12:15 PM.The FTSE 100 is trading at 7,670.30  with a loss of -0.50% percent or -38.75 point. Germany's DAX is trading at 12,661.53  with a loss of -0.22% percent or -27.86 point. France's CAC 40 is trading at 5,437.92 UP  with +0.069% percent or +3.73 point. The Stoxx Europe 600 is trading at 387.99  with a loss of -0.05% percent or -0.18 point.
Wednesday's Factors and Events
Investors also looked ahead to a meeting in Washington between President Donald Trump and European Commission President Jean-Claude Juncker. The two leaders are expected to discuss improving transatlantic trade relations among other subjects.
This is of key importance as relations have been strained between both regions in recent months. In June, the U.S. president threatened tariffs on imported cars from the European Union. Last week, the EU's Trade Commissioner Cecilia Malmstrom said that if the U.S. imposed these levies, it would be "very unfortunate," and added that the bloc had prepared its own list of countermeasures.
For the day  Nasdaq Composite is trading at 7,840.77  with a loss of -0.014% percent or  -1.10 point.the Dow is trading at 25,241.94 up with +0.79% percent or +197.65 point. The S&P 500 is trading at 2,820.40 up with +0.48% percent or +13.42 point.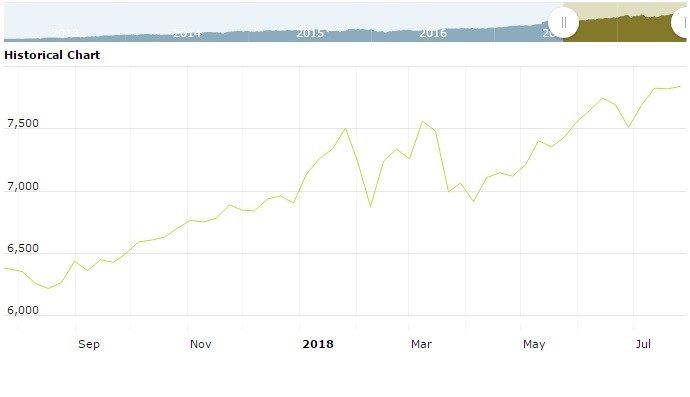 Other leading market index closes included the small-cap Russell 2000 Index closed at 1,680.20  with a loss of -1.07% percent or  -18.22 point; the S&P 600 Small-Cap Index closed at 1,046.24  with a loss of -0.90% percent or -9.52 point; the S&P 400 Mid-Cap Index closed at 1,983.01 with a loss of -0.75% percent or -15.00 point; the S&P 100 Index closed at 1,249.94 up with +0.85% percent or +10.48 point; the Russell 3000 Index closed at 1,674.48 up  with +0.21% percent or +3.53 point; the Russell 1000 Index closed at 1,563.19 up with +0.32% percent or  +4.98 point;