U.S. stock futures lower in pre-market trading for Wednesday, August 01.The Nasdaq Futures is trading at 7,264.00 up with +0.27% percent or +19.25 point.The Dow Futures is trading at 25,371.00 with a loss of -0.09% percent or -24.00 point. The S&P 500 Futures is trading at 2,816.50 with a loss of -0.02% percent or -0.50 point.
In overnight trading in the Eastern Hemisphere, Japan's Nikkei 225 is trading at 22,746.70 up with +0.86% percent or+192.98 point. Hong Kong's Hang Seng is trading at 28,261.20 with a loss of -1.13% percent or  -321.81 point. China's Shanghai Composite is trading at 2,824.53with a loss of -1.80% percent or -51.87  point. India's BSE Sensex is trading at 37,534.70 with a loss of -0.19% percent or  -71.88 point at 12:15 PM.The FTSE 100 is trading at 7,642.76  with a loss of  -1.37% percent or -106.00 point. Germany's DAX is trading at 12,769.79  with a loss of -0.28% percent or -35.71 point. France's CAC 40 is trading at 5,507.91  with a loss of  -0.061% percent or -3.38 point. The Stoxx Europe 600 is trading at 390.19  with a loss of -0.36% percent or -1.44 point.
Wednesday's Factors and Events
Oil prices fell on Tuesday, ontrack for their largest monthly decline in two years after OPECoutput reached a 2018 high in July and comments from U.S.President Donald Trump raised hopes that sanctions on Iranianoil exports could be avoided.
October Brent crude futures LCOV8 fell 74 cents to $74.81a barrel by 11:50 a.m. EDT (1550 GMT). The September contract LCOU8 , which expires later on Tuesday, traded at $74.40. U.S.crude futures CLc1 fell $1.15 to $68.98.
Brent has lost about 6 percent this month, with U.S. crudefutures down about 7 percent. Both benchmarks were headed forthe biggest monthly decline since July 2016.
Trump said he was willing to meet Iran's leader withoutpreconditions. Iranian officials rejected the proposal, urgingTrump to first make up for withdrawing from the multilateralnuclear deal that the U.S. had been a part of. urn:newsml:reuters.com:*:nL5N1UR5FV
The developments fed into the oil selloff, said Phil Flynn,analyst at Price Futures Group in Chicago. urn:newsml:reuters.com:*:nL1N1UQ12S
For the day The Nasdaq Composite is trading at 7,671.79 up with +0.49% percent or +0.55% point. the Dow is trading at 25,415.19 up with +0.43% percent or +108.36 point. The S&P 500 is trading at 2,816.29  up with +0.49% percent or +13.69 point.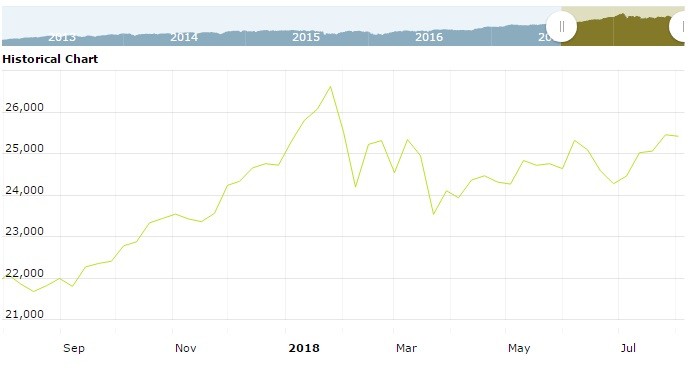 Other leading market index closes included the small-cap Russell 2000 Index closed at 1,670.80 up with +1.07% percent or +17.67 point; the S&P 600 Small-Cap Index closed at 1,048.88  up with +1.19% percent or +12.32 point; the S&P 400 Mid-Cap Index closed at 1,984.49 up with +0.92% percent or +18.08 point; the S&P 100 Index closed at 1,241.76 up  with +0.33% percent or +4.13 point; the Russell 3000 Index closed at 1,670.96 up with +0.57% percent or +9.51 point; the Russell 1000 Index closed at 1,560.36 up with +0.53% percent or +8.25 point;