U.S. stock futures higher in pre-market trading for Friday, August 03.The Nasdaq Futures is trading at 7,393.50 up with +0.10% percent or +7.75 point.The Dow Futures is trading at 25,314.00 up with +0.04% percent or +9.00 point. The S&P 500 Futures is trading at 2,829.25 up with +0.03% percent or +0.75 point.
In overnight trading in the Eastern Hemisphere, Japan's Nikkei 225 is trading at 22,525.18 up with +0.056% percent or+12.65 point. Hong Kong's Hang Seng is trading at 27,676.42 with a loss of -0.14% percent or  -38.14 point. China's Shanghai Composite is trading at 2,740.44 with a loss of -1.00% percent or -27.58  point. India's BSE Sensex is trading at 37,477.19 up with +0.84% percent or +312.03 point at 12:15 PM.The FTSE 100 is trading at 7,634.51 up with +0.77% percent or +58.58 point. Germany's DAX is trading at 12,602.41 up with +0.45% percent or +56.08 point. France's CAC 40 is trading at 5,477.21  up with +0.30% percent or +16.23 point. The Stoxx Europe 600 is trading at 388.81 up with +0.54% percent or +2.10 point.
Friday's Factors and Events
The S&P 500 and Nasdaq Composite rose on Today as Apple became the first U.S. publicly traded company in history to reach $1 trillion in market value.
Apple shares rose 2.9 percent to $207.39 a share, lifting its market cap above the $1 trillion mark. Apple's stock has been on a tear since the company reported stronger-than-forecast quarterly results on Tuesday. Since then, the stock is up nearly 9 percent.
"It's good for confidence in the market to the extent that it's a widely owned stock," said Marc Chaikin, CEO of Chaikin Analytics. "A lot of market-cap weighted ETFs are getting a boost from this."
For the day The Nasdaq Composite is trading at 7,802.68 up with +1.24% percent or +95.40 point. the Dow is trading at 25,326.16 with a loss of -0.030% percent or -7.66 point. The S&P 500 is trading at 2,827.22 up with +0.49% percent or +13.86 point.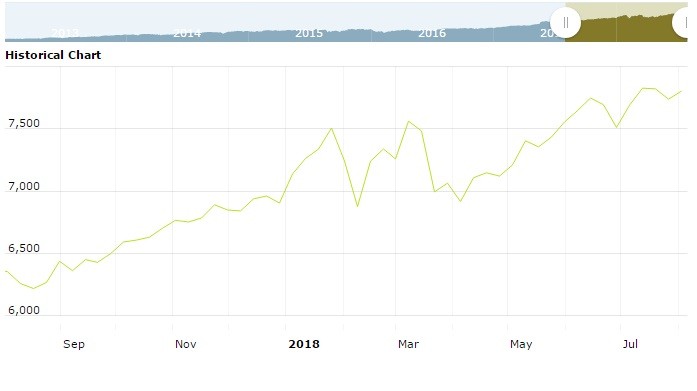 Other leading market index closes included the small-cap Russell 2000 Index closed at 1,682.10 up with +0.77% percent or +12.8 point; the S&P 600 Small-Cap Index closed at 1,058.15 up with +0.92% percent or +9.66 point; the S&P 400 Mid-Cap Index closed at 1,994.93 up with +0.84% percent or +16.68 point; the S&P 100 Index closed at 1,250.66 up  with +0.53% percent or +6.57 point; the Russell 3000 Index closed at 1,679.31 up with +0.59% percent or +9.91 point; the Russell 1000 Index closed at 1,567.93 up with +0.58% percent or +9.02 point;