U.S. stock futures higher in pre-market trading for Monday, August 06.The Nasdaq Futures is trading at 7,414.50 up with +0.17% percent or +12.50 point.The Dow Futures is trading at 25,440.00 up with +0.12% percent or +30.00 point.The S&P 500 Futures is trading at 2,841.75 up with +0.08% percent or +2.25 point.
In overnight trading in the Eastern Hemisphere, Japan's Nikkei 225 is trading at 22,507.32  with a loss of -0.079% percent or -17.86 point. Hong Kong's Hang Seng is trading at 27,820.17 up with +0.52% percent or  +143.85 point. China's Shanghai Composite is trading at 2,705.16 with a loss of -1.29% percent or -35.29  point. India's BSE Sensex is trading at 37,735.49 up with +0.48% percent or +179.33 point at 12:15 PM.The FTSE 100 is trading at 7,663.30 up with +0.055% percent or +4.20 point. Germany's DAX is trading at 12,702.32 up with +0.69% percent or +86.56 point. France's CAC 40 is trading at 5,499.48  up with +0.37% percent or +20.51 point. The Stoxx Europe 600 is trading at 390.30 up with +0.29% percent or +1.15 point.
Monday's Factors and Events
Markets around the globe pulled back Monday, as concerns surrounding trade tensions continued. Last week, China said it was ready to retaliate with tariffs on around $60 billion worth of U.S. goods, amid a mounting trade war with the States. Beijing added that import taxes would be within the range of 5 percent to 25 percent in rates, with many of the goods listed linked to agriculture.
The U.S. administration revealed last Wednesday that President Donald Trump had spoken with U.S. Trade Representative Robert Lighthizer and asked him to consider increasing the proposed levies on $200 billion of Chinese goods up to 25 percent, from 10 percent.
For the day The Nasdaq Composite is trading at 7,812.01 up with +0.12% percent or +9.33 point.the Dow is trading at 25,462.58 up with +0.54% percent or +136.42 point. The S&P 500 is trading at 2,840.35 up with +0.46% percent or +13.13 point.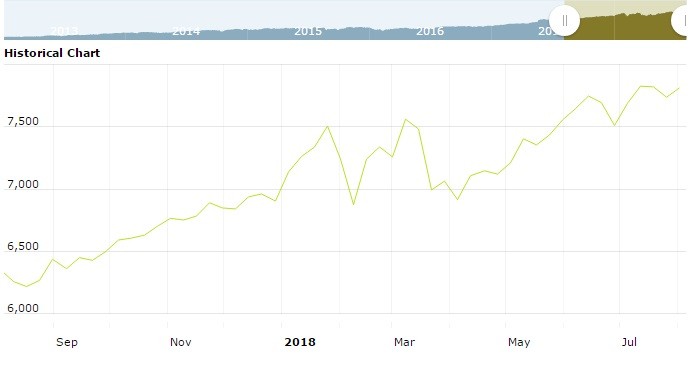 Other leading market index closes included the small-cap Russell 2000 Index closed at 1,673.37  with a loss of -0.52% percent or -8.73 point; the S&P 600 Small-Cap Index closed at 1,053.61 with a loss of -0.43% percent or -4.54 point; the S&P 400 Mid-Cap Index closed at 2,000.04 up with +0.26% percent or +5.11 point; the S&P 100 Index closed at 1,257.19 up  with +0.52% percent or +6.53 point; the Russell 3000 Index closed at 1,685.03 up with +0.34% percent or +5.72 point; the Russell 1000 Index closed at 1,574.38 up with +0.41% percent or +6.45 point;