U.S. stock futures higher in pre-market trading for Tuesday, August 07.The Nasdaq Futures is trading at 7,462.75 up with +0.25% percent or +18.75 point.The Dow Futures is trading at 25,553.00 up with +0.33% percent or +85.00 point.The S&P 500 Futures is trading at 2,856.25 up with +0.22% percent or +6.25 point.
In overnight trading in the Eastern Hemisphere, Japan's Nikkei 225 is trading at 22,662.74 up with +0.69% percent or +155.42 point. Hong Kong's Hang Seng is trading at 28,227.13 up with +1.47% percent or  +407.57 point. China's Shanghai Composite is trading at 2,779.37  up with +2.74% percent or +74.22  point. India's BSE Sensex is trading at 37,713.15 up with +0.056% percent or +21.26 point at 12:15 PM.The FTSE 100 is trading at 7,733.52 up with +0.91% percent or +69.74 point. Germany's DAX is trading at 12,715.38 up with +0.93% percent or +117.17 point. France's CAC 40 is trading at 5,522.40  up with +0.83% percent or +45.23 point. The Stoxx Europe 600 is trading at 391.10 up with +0.63% percent or +2.44 point.
Tuesday's Factors and Events
The tech-heavy index also posted a five-day winning streak, its longest since May. The Dow Jones Industrial Average climbed 39.60 points to close at 25,502.18, led by gains in Disney. The S&P 500 rose 0.4 percent to 2,850.40, as tech and consumer discretionary outperformed.
Facebook rose on reports that the social media giant is in talks with banks to incorporate users' financial information into Messenger.
Berkshire Hathaway posted stronger-than-forecast quarterly profit on Friday, sending its Class B shares up by 3 percent. Cardinal Health and Tyson Foods reported better-than-expected corporate earnings before the bell. Shares of Tyson Foods rose more than 3 percent, but Cardinal Health's stock slipped 0.5 percent. Jacobs Engineering shares spiked 7.8 percent higher on better-than-forecast earnings and were the bes
For the day The Nasdaq Composite is trading at 7,859.68 up with +0.61% percent or +47.66 point.the Dow is trading at 25,502.18 up with +0.16% percent or +39.60 point. The S&P 500 is trading at 2,850.40 up with +0.35% percent or +10.05 point.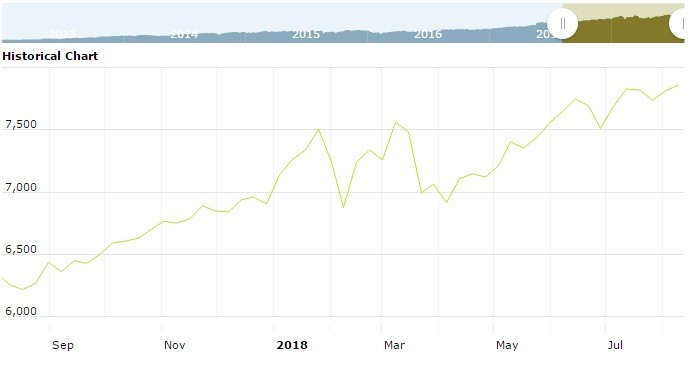 Other leading market index closes included the small-cap Russell 2000 Index closed at 1,684.31 up with +0.65% percent or +10.94 point; the S&P 600 Small-Cap Index closed at 1,061.52 up with 0.75% percent or +7.91 point; the S&P 400 Mid-Cap Index closed at 2,009.50 up with +0.47% percent or +9.46 point; the S&P 100 Index closed at 1,262.57 up  with +0.43% percent or +5.38 point; the Russell 3000 Index closed at 1,691.85 up with +0.41% percent or +6.83 point; the Russell 1000 Index closed at 1,580.44 up with +0.38% percent or +6.06 point;