U.S. stock futures higher  in pre-market trading for Tuesday, August 28.The Nasdaq Futures is trading at 7,581.75  up with +0.18% percent or +13.75 point.The Dow Futures is trading at 26,101.00  up with  +0.09% percent or  +24.00 point. The S&P 500 Futures is trading at 2,901.25  up with +0.09% percent or  +2.75 point.
In overnight trading in the Eastern Hemisphere, Japan's Nikkei 225 is trading at 22,813.47 up with +0.061% percent or +13.83 point. Hong Kong's Hang Seng is trading at 28,344.10 up with +0.26% percent or  +72.83 point. China's Shanghai Composite is trading at 2,777.98 with a loss of -0.10% percent or -2.92  point. India's BSE Sensex is trading at 38,874.94  up with +0.47% percent or  +180.83  point at 12:15 PM.The FTSE 100 is trading at 7,604.95  up with +0.36% percent or +27.46 point. Germany's DAX is trading at 12,559.54 up  with +0.17% percent or +21.23  point. France's CAC 40 is trading at 5,493.64 up with +0.27% percent or +14.54 point. The Stoxx Europe 600 is trading at 385.87 up with +0.08% percent or +0.30  point.
Tuesday's Factors and Events
Five years ago, Axon Enterprise was called TASER International and was primarily making conducted electrical weapons, more commonly called stun guns, though it had just broken into the body camera and evidence database management market. Sales of Tasers represented over 92% of annual sales that year, though the body cam market held significant potential for growth.
Today, after changing its name to something that reflects where it sees the future of its business heading, Axon now generates almost a third of its top line from body cams and evidence management, and the segment which houses them, "software and sensors," is the company's fastest growing revenue stream. The segment's sales rose 66% last year while Taser segment sales were up less than 16%.
U.S. market were higher on Monday.For the day The Nasdaq Composite is trading at 8,017.90 up with +0.91% percent or +71.92  point.the Dow is trading at 26,049.64 up with +1.01% percent or +259.29 point. The S&P 500 is trading at 2,896.74 up with +0.77%percent or +22.05 point.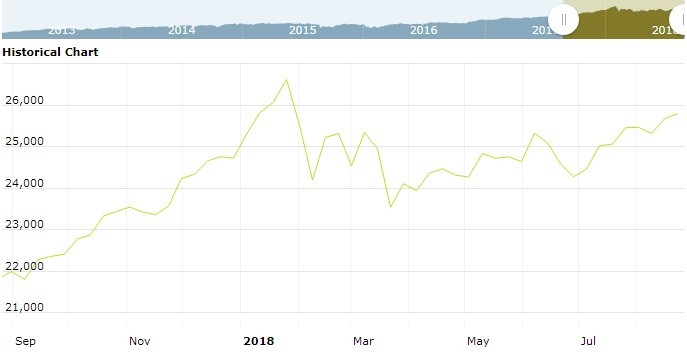 Other leading market index closes included the small-cap Russell 2000 Index closed at 1,728.41 up with +0.16% percent or +2.73 point; the S&P 600 Small-Cap Index closed at 1,092.96 up with +0.13% percent or +1.41 point; the S&P 400 Mid-Cap Index closed at 2,044.06 up with +0.44% percent or +8.96 point; the S&P 100 Index closed at 1,283.45 up with +0.87% percent or +11.02 point; the Russell 3000 Index closed at 1,722.13 up with +0.70% percent or +11.99 point; the Russell 1000 Index closed at 1,607.64  up with +0.75% percent or +11.91 point;