U.S. stock futures mixed  in pre-market trading for Wednesday, August 29.The Nasdaq Futures is trading at 7,589.25  up with +0.15% percent or +11.00 point.The Dow Futures is trading at 26,073.00 with a loss of  -0.05% percent or  -12.00 point.  The S&P 500 Futures is trading at 2,899.25 with 0.00% percent or  0.00 point.
In overnight trading in the Eastern Hemisphere, Japan's Nikkei 225 is trading at 22,848.22 up with +0.15% percent or +34.75 point. Hong Kong's Hang Seng is trading at 28,325.33  with  a loss of -0.093% percent or  -26.29 point. China's Shanghai Composite is trading at 2,767.04 with a loss of -0.39% percent or -10.94  point. India's BSE Sensex is trading at 38,883.18  with a loss of -0.035% percent or  -13.45  point at 12:15 PM.The FTSE 100 is trading at 7,589.10   with a loss of -0.37% percent or -28.12 point. Germany's DAX is trading at 12,520.74   with a loss of -0.053% percent or -6.68  point. France's CAC 40 is trading at 5,485.95 up with +0.018% percent or +0.96 point. The Stoxx Europe 600 is trading at 385.49 up with +0.01% percent or +0.03  point.
Wednesday's Factors and Events
Amazon will surely continue to put pressure on Walmart, Kroger, and other big national chains, and they'll have to keep investing to stay ahead of Whole Foods. In the short term, however, it appears Amazon's success will come at the expense of smaller, urban-focused grocers and convenience stores. Meanwhile, Amazon investors should be ready for long-term investments to start taking share from the big national players.
10 stocks we like better than Amazon
When investing geniuses David and Tom Gardner have a stock tip, it can pay to listen. After all, the newsletter they have run for over a decade, Motley Fool Stock Advisor , has quadrupled the market.*
David and Tom just revealed what they believe are the 10 best stocks for investors to buy right now… and Amazon wasn't one of them! That's right — they think these 10 stocks are even better buys.
U.S. market were higher on Tuesday.For the day  The Nasdaq Composite is trading at 8,030.04 up with +0.15% percent or +12.14  point.the Dow is trading at 26,064.02 up with +0.055% percent or 14.38 point. The S&P 500 is trading at 2,897.52 up with +0.027%percent or +0.78 point.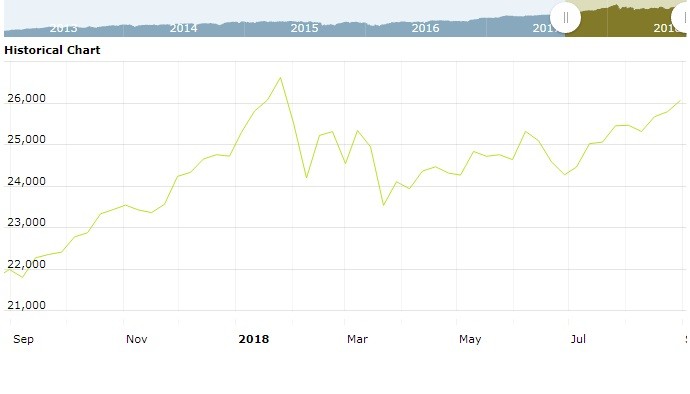 Other leading market index closes included the small-cap Russell 2000 Index closed at 1,728.42 up with +0.00091% percent or +0.016 point; the S&P 600 Small-Cap Index closed at 1,092.64 with a loss of -0.029% percent or -0.32 point; the S&P 400 Mid-Cap Index closed at 2,043.94  with a loss of -0.0059% percent or -0.12 point; the S&P 100 Index closed at 1,283.24  with a loss of -0.016% percent or -0.21 point; the Russell 3000 Index closed at 1,722.84 up with +0.041% percent or +0.71 point; the Russell 1000 Index closed at 1,608.36  up with +0.045% percent or +0.72 point;