U.S. stock futures lower  in pre-market trading for Thursday, August 30.The Nasdaq Futures is trading at 7,653.50  with a loss of  -0.20% percent or -15.25 point.The Dow Futures is trading at 26,075.00 with a loss of  -0.28% percent or  -72.00 point. The S&P 500 Futures is trading at 2,909.50 with a loss of -0.18% percent or  -5.25 point.
In overnight trading in the Eastern Hemisphere,Japan's Nikkei 225 is trading at 22,869.50 up with +0.093% percent or +21.28 point. Hong Kong's Hang Seng is trading at 28,178.08  with  a loss of -0.84% percent or  -238.36 point. China's Shanghai Composite is trading at 2,737.74 with a loss of -1.14% percent or -31.56  point. India's BSE Sensex is trading at 38,711.27  with a loss of -0.030% percent or  -11.66  point at 12:15 PM.The FTSE 100 is trading at 7,516.88   with a loss of -0.61% percent or -46.33 point. Germany's DAX is trading at 12,521.92  with a loss of -0.32% percent or -39.76  point. France's CAC 40 is trading at 5,492.57  with a loss of -0.16% percent or -8.76 point. The Stoxx Europe 600 is trading at 385.54  with a loss of -0.27% percent or -1.05  point.
Thursday's Factors and Events
During Berkshire Hathaway 's (NYSE: BRK-A) (NYSE: BRK-B) 2018 annual shareholder meeting, Warren Buffett admitted that not investing in Amazon (NASDAQ: AMZN) and Google — now Alphabet (NASDAQ: GOOGL) (NASDAQ: GOOG) — was a mistake. It seems Berkshire Hathaway doesn't want to repeat that mistake — even less so when there's an opportunity in India, one of the world's fastest-growing economies.
Berkshire Hathaway has invested in India-based fintech start-up Paytm, its first direct investment in the nation, according to The Economic Times (ET). While the details aren't out yet, here's what we do know as of this writing: The deal is led by Todd Combs, one of the two investment managers responsible for several of Berkshire's recent stock investments , and Combs is joining the board of Paytm's parent One97 Communications.
U.S. market were higher on Wednesday.For the day The Nasdaq Composite is trading at 8,109.69 up with +0.99% percent or +79.65  point.the Dow is trading at 26,124.57 up with +0.23% percent or +60.55 point. The S&P 500 is trading at 2,914.04  up with +0.57% percent or +16.52 point.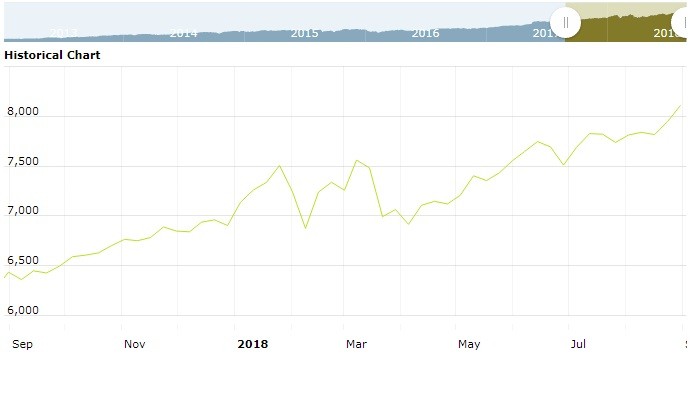 Other leading market index closes included the small-cap Russell 2000 Index closed at 1,734.75 up with +0.37% percent or +6.33 point; the S&P 600 Small-Cap Index closed at 1,094.34 up with +0.16% percent or +1.70 point; the S&P 400 Mid-Cap Index closed at 2,050.23 up with +0.31% percent or +6.29 point; the S&P 100 Index closed at 1,291.51  up with +0.64% percent or +8.27 point; the Russell 3000 Index closed at 1,732.12 up with +0.041%0.54% percent or +9.29 point; the Russell 1000 Index closed at 1,617.25  up with +0.55% percent or +8.90 point;