U.S. stock futures mixed  in pre-market trading for Tuesday, September 04.The Nasdaq Futures is trading at 7,665.75  up with +0.03% percent or +2.50 point.The Dow Futures is trading at 25,954.00 with a loss of  -0.13% percent or  -34.00 point. The S&P 500 Futures is trading at 2,902.25 up with +0.01% percent or  +0.25 point.
In overnight trading in the Eastern Hemisphere,Japan's Nikkei 225 is trading at 22,696.90 with a loss of -0.046%percent or -10.48 point. Hong Kong's Hang Seng is trading at 27,963.82  up with  +0.91% percent or  +251.28 point. China's Shanghai Composite is trading at 2,750.58 up with +2,750.58 percent or +29.85  point. India's BSE Sensex is trading at 38,372.36 up with +0.16% percent or  +59.84 point at 12:15 PM.The FTSE 100 is trading at 7,474.87   with a loss of -0.40% percent or -29.91 point. Germany's DAX is trading at 12,232.33  with a loss of -0.92% percent or -114.08  point. France's CAC 40 is trading at 5,356.99  with a loss of -1.05% percent or -56.80 point. The Stoxx Europe 600 is trading at 380.32  with a loss of -0.58% percent or -2.20 point.
Tuesday's Factors and Events
U.S. futures pointed to a flat opening bell on Tuesday as investors wait for news on trade between the U.S. and its major trading partners.
Markets were closed in the U.S. on Monday for the Labor Day holiday weekend.
The White House on Friday gave Congress a 90-day notice that a revised NAFTA deal with Mexico would go forward, despite no agreement being made with Canada. Trade negotiations with Canada are expected to continue on Wednesday.
Other world leaders are following closely to see how U.S. President Donald Trump will negotiate disputed trade tariffs with Europe.
For the day The Nasdaq Composite is trading at 8,109.548,109.54 up with +0.26% percent or +21.17 point. the Dow is trading at 25,964.82  with a loss of -0.085% percent or -22.10 point. The S&P 500 is trading at 2,901.52  up with +0.013% percent or +0.39 point.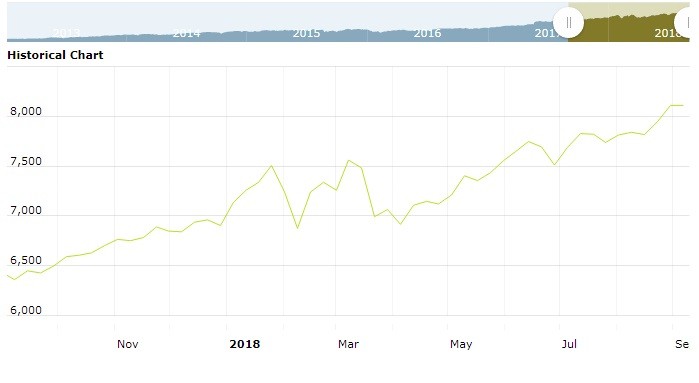 Other leading market index closes included the small-cap Russell 2000 Index closed at 1,740.75 up with +0.48% percent or +8.40 point; the S&P 600 Small-Cap Index closed at 1,098.36 up with +0.60% percent or +6.50 point; the S&P 400 Mid-Cap Index closed at 2,044.70 up with +0.26% percent or +5.21 point; the S&P 100 Index closed at 1,286.90   with a loss of  -0.036% percent or -0.46 point; the Russell 3000 Index closed at 1,726.09 up with +0.074% percent or +1.28 point; the Russell 1000 Index closed at 1,610.70  up with +0.040% percent or +0.65  point;