U.S. stock futures higher  in pre-market trading for Monday, September 10.The Nasdaq Futures is trading at 7,477.50  up with +0.52% percent or +39.00 point.The Dow Futures is trading at 26,041.00  up with +0.32% percent or  +82.00 point.The S&P 500 Futures is trading at 2,885.00 up with +0.36% percent or +10.25 point.
In overnight trading in the Eastern Hemisphere, Japan's Nikkei 225 is trading at 22,373.09 up with +0.30% percent or +66.03 point. Hong Kong's Hang Seng is trading at 26,532.81   with a loss of -1.63% percent or  -440.66 point. China's Shanghai Composite is trading at 2,669.48  with  a loss of  -1.21% percent or -32.82 point. India's BSE Sensex is trading at 38,017.91 with a loss of  -0.97% percent or  -371.91 point at 12:15 PM.The FTSE 100 is trading at 7,298.32 up with +0.28% percent or +20.62 point. Germany's DAX is trading at 11,996.48 up with +0.31% percent or  +36.85  point. France's CAC 40 is trading at 5,275.20   up with  +0.44% percent or +22.99 point. The Stoxx Europe 600 is trading at 375.26  up with +0.40% percent or +1.49 point.
Monday's Factors and Events
U.S. stock index futures posted solid gains ahead of Monday's open, as investors kept a close eye on trade developments.
Investors around the globe remain on tenterhooks at the start of the new week, as concerns from previous days, seep into market sentiment. Last Friday, President Donald Trump spoke to reporters on Air Force One, stating that he was "ready to go" on hitting Chinawith an additional $267 billion worth of tariffs.
The U.S. administration is already looking into finalizing plans that would inflict tariffs on $200 billion worth of Chinese goods, after a public comment period expired recently.
For the day The Nasdaq Composite is trading at 7,902.54  with a loss of -0.25% percent or -20.18 point.the Dow is trading at 25,916.54  with a loss of -0.31% percent or -79.33 point. The S&P 500 is trading at 2,871.68  with a loss of -0.22% percent or -6.37 point.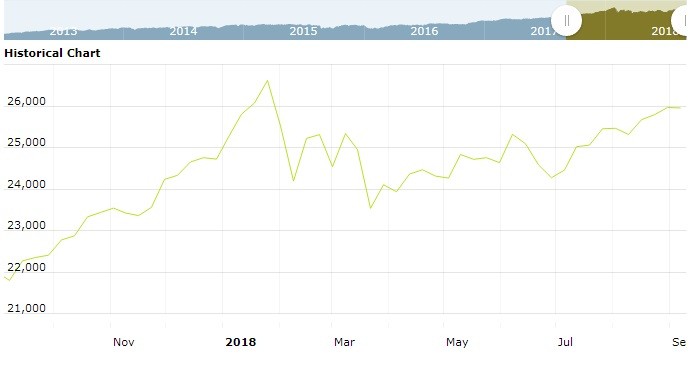 Other leading market index closes included the small-cap Russell 2000 Index closed at 1,713.18  with a loss of -0.075%  percent or -1.29  point; the S&P 600 Small-Cap Index closed at 1,081.15 with a loss of  -0.27% percent or -2.90 point; the S&P 400 Mid-Cap Index closed at 2,027.25 with a loss of -0.21% percent or -4.29 point; the S&P 100 Index closed at 1,271.27  with a loss of  -0.21% percent or -2.71 point; the Russell 3000 Index closed at 1,706.99 with a loss of -0.22% percent or -3.70 point; the Russell 1000 Index closed at 1,593.51  with a loss of -0.23% percent or -3.64 point;