U.S. stock futures lower  in pre-market trading for Tuesday, September 11.The Nasdaq Futures is trading at 7,444.50  with a loss of -0.21% percent or -12.50 point.The Dow Futures is trading at 25,812.00  with a loss of -0.36% percent or  -93.00 point.The S&P 500 Futures is trading at 2,874.25 with a loss of -0.21% percent or -6.00 point.
In overnight trading in the Eastern Hemisphere,  Japan's Nikkei 225 is trading at 22,664.69 up with +1.30% percent or +291.60 point. Hong Kong's Hang Seng is trading at 26,477.66   with a loss of  -0.51% percent or  ?135.76 point. China's Shanghai Composite is trading at 2,664.80  with  a loss of -0.18% percent or ?4.68 point. India's BSE Sensex is trading at 37,874.62 with a loss of  0.13%  percent or  ?47.55 point at 12:15 PM.The FTSE 100 is trading at 7,236.56 with a loss of -0.59% percent or -42.74 point. Germany's DAX is trading at 11,933.76  with a loss of  -0.44% percent or  -52.58  point. France's CAC 40 is trading at 5,257.38    with a loss of -0.23% percent or  -12.25 point. The Stoxx Europe 600 is trading at 374.36  with  a loss of -0.31% percent or -1.17 point.
Tuesday's Factors and Events
China is reportedly set to call upon the World Trade Organization soon for authorization to inflict sanctions on the U.S., according to a meeting agenda, Reuters reported. The reason for this is because of Washington's non-compliance with a ruling in a dispute over U.S. dumping duties that China introduced in 2013.
Boeing shares, considered a bellwether for global trade, fell 0.6 percent before the bell. Caterpillar also slipped 0.7 percent.
Stock futures also fell as tech was headed for another decline. Shares of Facebook, Amazon, Netflix and Tesla all fell in the premarket. Tesla's stock dropped 2 percent after a Nomura analyst called the stock "no longer investable."
For the day The Nasdaq Composite is trading at 7,924.16 up  with +0.27% percent or +21.62 point. the Dow is trading at 25,857.07 with a loss of -0.23% percent or -59.47 point. The S&P 500 is trading at 2,877.13   up with +0.19% percent or +5.45 point.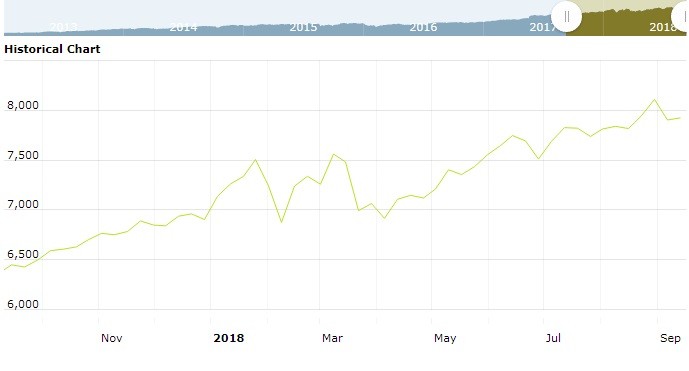 Other leading market index closes included the small-cap Russell 2000 Index closed at 1,717.47  up with +0.25%  percent or+4.29  point; the S&P 600 Small-Cap Index closed at 1,082.57 up with +0.13% percent or +1.42 point; the S&P 400 Mid-Cap Index closed at 2,031.78 up with +0.22% percent or +4.53 point; the S&P 100 Index closed at 1,272.29 up with +0.080% percent or +1.02 point; the Russell 3000 Index closed at 1,710.71 up with +0.22% or +3.72 point; the Russell 1000 Index closed at 1,596.94  up with +0.22% percent or +3.43 point;