U.S. stock futures lower  in pre-market trading for , October 02.The Nasdaq Futures is trading at 7,641.25  with  a loss of -0.45% percent or -34.25 point.The Dow Futures is trading at 26,597.00  with a loss of  -0.30% percent or  -81.00 point.The S&P 500 Futures is trading at 2,922.75  with a loss of  -0.25% percent or -7.25 point.
In overnight trading in the Eastern Hemisphere, Japan's Nikkei 225 is trading at 24,270.62 up with +0.10% percent or +24.86 point. Hong Kong's Hang Seng is trading at 27,113.60  with  a loss of -2.43% percent or -674.92 point. China's Shanghai Composite is trading at 2,821.35  up with +1.06% percent or  +29.58 point. India's BSE Sensex is trading at 36,526.14 up with  +0.83% percent or +299.00 point at 12:15 PM.The FTSE 100 is trading at 7,469.09 with  a loss of -0.35% percent or -26.58 point. Germany's DAX is trading at 12,243.02 with a loss of – 0.78% percent or -96.01 point. France's CAC 40 is trading at 5,467.37   with a loss of -0.72% percent or  -39.44 point. The Stoxx Europe 600 is trading at 381.67  with a loss of  -0.59% percent or -2.28 point.
Tuesday's Factors and Events
markets around the globe are keeping abreast of trade developments, after news emerged that Canada had joined the U.S. and Mexico in a new trade deal.
Set to be signed at the end of November, the United States-Mexico-Canada Agreement, or "USMCA" for short, will see all three countries compromise on certain trade aspects. More market access will be granted to U.S. dairy farmers, while Canada has agreed to effectively cap automobile exports to the States.
Now investors will be looking to China, to see if Beijing and Washington can find a way to meet eye-to-eye on certain trade elements.
The U.S. Treasury is set to auction $40 billion in four-week bills.
For the day The Nasdaq Composite is trading at 8,037.30  with a loss of -0.11% percent or -9.05 point.the Dow is trading at 26,651.21  up with +0.73% percent or +192.90 point. The S&P 500 is trading at 2,924.59 up with +0.36% percent or +10.61  point.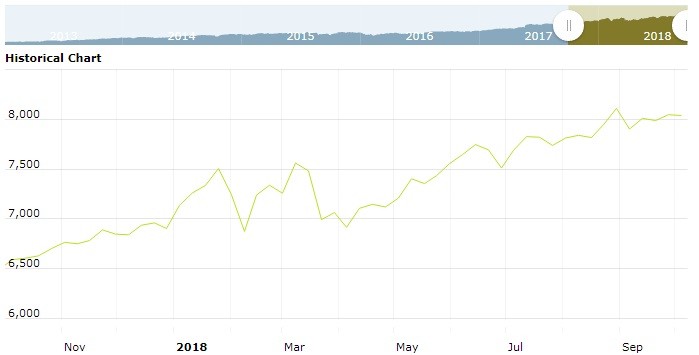 Other leading market index closes included the small-cap Russell 2000 Index closed at1,672.99   with a loss of  -1.39% percent or -23.58 point; the S&P 600 Small-Cap Index closed at 1,046.64  with a loss of -1.44% percent or  -15.28 point; the S&P 400 Mid-Cap Index closed at 2,004.19 with a loss of -0.76% percent or -15.36 point; the S&P 100 Index closed at 1,300.84  up with  +0.51% percent or +6.57 point; the Russell 3000 Index closed at 1,729.20 up with +0.15% percent or +2.67 point; the Russell 1000 Index closed at 1,619.09 up with  +0.28% percent or +4.55 point;