U.S. stock futures higher  in pre-market trading for , October 03.The Nasdaq Futures is trading at 7,671.50 up  with  +0.24% percent or+18.25 point.The Dow Futures is trading at 26,857.00 up with +0.19% percent or  +50.00 point.The S&P 500 Futures is trading at 2,935.50  up  with +0.24% percent or +7.00 point.
In overnight trading in the Eastern Hemisphere, Japan's Nikkei 225 is trading at 24,110.96  with  a loss of -0.66% percent or -159.66 point. Hong Kong's Hang Seng is trading at 27,099.64  with  a loss of -0.099% percent or -26.74 point. China's Shanghai Composite is trading at 2,821.35  up with +1.06% percent or  +29.58 point. India's BSE Sensex is trading at 36,456.05  with a loss of – 0.19% percent or -70.09 point at 12:15 PM.The FTSE 100 is trading at 7,518.49 up with  +0.59% percent or +43.94 point. Germany's DAX is trading at 12,287.58 with a loss of – 0.42% percent or -51.45 point. France's CAC 40 is trading at 5,498.01  up with +0.55% percent or +30.12 point. The Stoxx Europe 600 is trading at 383.78  up with +0.48% percent or +1.83 point.
Wednesday's Factors and Events
If you are looking for a portfolio boost for a strong end-of-year rally, look no further. Here are three trending stocks that have scored multiple buy ratings recently. How do we know? The TipRanks' Trending Stocks tool pinpoints the best-rated stocks over the last seven days. Out of all the stocks pulled up by the tool, these three look particularly compelling right now.
For a start, check out the upside potential from the current share price to the analyst price targets. Then see how these stocks all score a 'Strong Buy' Street consensus. Let's take a closer look at why analysts are showing their support on these picks now:
For the day The Nasdaq Composite is trading at 7,999.55  with a loss of -0.47% percent or -37.76 point. the Dow is trading at 26,773.94  up with +0.46% percent or +122.73 point. The S&P 500 is trading at 2,923.43 with a loss of  -0.040% percent or -1.16  point.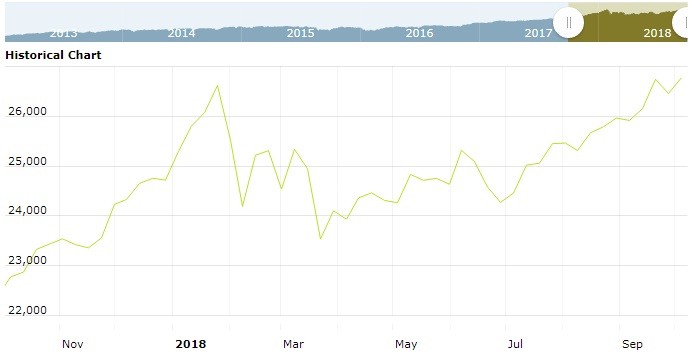 Other leading market index closes included the small-cap Russell 2000 Index closed at 1,656.04  with a loss of  -1.01% percent or -16.95 point; the S&P 600 Small-Cap Index closed at 1,035.42   with a loss of -1.07% percent or  -11.22 point; the S&P 400 Mid-Cap Index closed at 1,996.55  with a loss of -0.38% percent or -7.64 point; the S&P 100 Index closed at 1,301.56  up with  +0.055% percent or +0.72 point; the Russell 3000 Index closed at 1,726.47  with a loss of -0.16% percent or -2.72 point; the Russell 1000 Index closed at 1,617.66  with a loss of – 0.088% percent or -1.43 point;