U.S. stock futures lower  in pre-market trading for , October 10.The Nasdaq Futures is trading at 7,391.75 with a loss of -0.10% percent or -7.25 point.The Dow Futures is trading at 26,479.00 with a loss of -0.01% percent or  -2.00 point.The S&P 500 Futures is trading at 2,887.75   with a loss of -0.02% percent or -0.50 point.
In overnight trading in the Eastern Hemisphere, Japan's Nikkei 225 is trading at 23,506.04  up with +0.16% percent or +36.65 point. Hong Kong's Hang Seng is trading at 26,290.83  up with  +0.45% percent or +117.92 point. China's Shanghai Composite is trading at 2,721.41  up with +0.015% percent or  +0.40 point. India's BSE Sensex is trading at 34,677.65 up  with +1.10% percent or+378.18 point at 12:15 PM.The FTSE 100 is trading at 7,235.93  with a loss of  -0.023% percent or -1.66 point. Germany's DAX is trading at 11,945.11 with a loss of – 0.27% percent or -32.11 point. France's CAC 40 is trading at 5,294.84 with a loss of -0.45% percent or -23.71 point. The Stoxx Europe 600 is trading at 372.34 with a loss of -0.16% percent or -0.61 point.
Wednesday's Factors and Events
In the newest episode of Nasdaq's Tomorrow's Capital, Mikko Hypponen, a renowned authority on computer security and the Chief Research Officer of F Secure, discusses the digitization of crime and the alarming pace of online abuse.
But these actions have real-life consequences, too. Hypponen points out that a core value of cryptocurrencies — its anonymization — makes it attractive to criminals.
"[Cryptocurrency exchanges] are much easier targets and the best point, from the point of view of the attackers, is that if you get in, then it's game over. They've already got the money. They don't need to launder it. They don't need to hide it. It's already anonymised. It's already [untraceable] and that's perfect for criminals."
For the day The Nasdaq Composite is trading at 7,738.02 up with +0.027% percent or +2.07 point.the Dow is trading at 26,430.57  with a loss of -0.21% percent or -56.21 point. The S&P 500 is trading at 2,880.34 with  a loss of -0.14% percent or -4.09 point.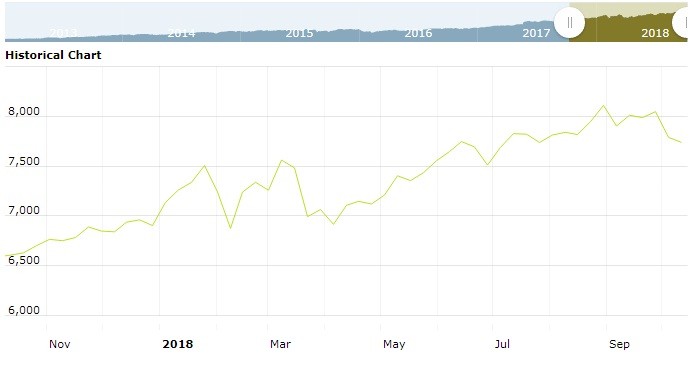 Other leading market index closes included the small-cap Russell 2000 Index closed at 1,621.87   with a loss of  -0.47% percent or  –7.65 point; the S&P 600 Small-Cap Index closed at 1,015.94   with a loss of- 0.41% percent or -4.19 point; the S&P 400 Mid-Cap Index closed at 1,956.85   with a loss of -0.56% percent or -11.08 point; the S&P 100 Index closed at 1,283.60 with a loss of  -0.021% percent or -0.27  point; the Russell 3000 Index closed at 1,697.83 with a loss of  -0.19% or  -3.31 point; the Russell 1000 Index closed at 1,591.34   with a loss of -0.17% percent or -2.75 point;