U.S. stock futures lower  in pre-market trading for , October 11.The Nasdaq Futures is trading at 6,982.75 with a loss of -0.70% percent or -49.25 point.The Dow Futures is trading at 25,301.00 with a loss of -0.85% percent or  -218.00 point.The S&P 500 Futures is trading at 2,760.00 with a loss of -0.76% percent or -21.00 point.
In overnight trading in the Eastern Hemisphere, Japan's Nikkei 225 is trading at 22,590.86   with a loss of -3.89% percent or -915.18 point. Hong Kong's Hang Seng is trading at 25,379.07   with  a loss of -3.11% percent or -814.00 point. China's Shanghai Composite is trading at 2,583.46   with a loss of -5.22% percent or -142.38 point. India's BSE Sensex is trading at 34,265.37   with a loss of -1.43% percent or -495.52 point at 12:15 PM.The FTSE 100 is trading at 7,025.49 with a loss of  -1.68% percent or -120.25 point. Germany's DAX is trading at 11,566.68 with a loss of – 1.24% percent or -145.82 point. France's CAC 40 is trading at 5,122.93 with a loss of -1.60% percent or -83.28 point. The Stoxx Europe 600 is trading at 360.51 with a loss of -1.75% percent or -6.41 point.
Wednesday's Factors and Events
Shares of Amazon declined 6.2 percent on Wednesday, while Netflix slid 8.4 percent. Facebook and Apple also fell more than 4 percent each. These stocks are top performers for the year and for most of the bull market. For the overall tech sector in the S&P 500, it was the worst day in seven years, dropping 4.8 percent.
Worries about a sharp rise in interest rates also pressured equities. The 10-year Treasury note yield traded around 3.23 percent a day after hitting its highest level since 2011. The two-year yield, meanwhile, reached its highest mark since 2008. The speedy rise in yields has sent worries through Wall Street that higher borrowing costs will slow down the economy.
For the day The Nasdaq Composite is trading at 7,422.05  with a loss of  -4.08% percent or -315.97 point.the Dow is trading at 25,598.74  with a loss of -3.15% percent or -831.83 point. The S&P 500 is trading at 2,785.68 with  a loss of -3.29% percent or -94.66 point.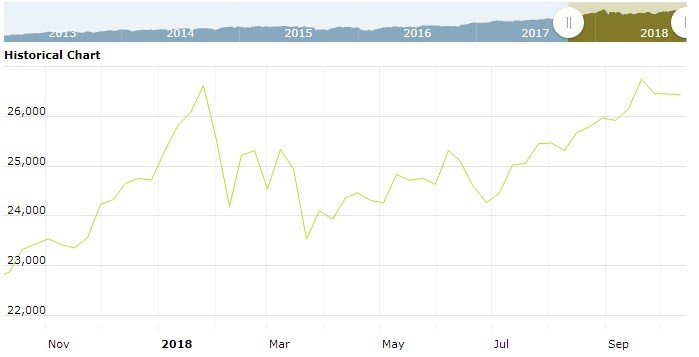 Other leading market index closes included the small-cap Russell 2000 Index closed at 1,575.41   with a loss of  -2.86% percent or ?46.45 point; the S&P 600 Small-Cap Index closed at 987.79   with a loss of -2.77% percent or  –28.15 point; the S&P 400 Mid-Cap Index closed at 1,905.43   with a loss of  -2.63% percent or -51.42 point; the S&P 100 Index closed at 1,239.83 with a loss of  -3.41% percent or  -43.77 point; the Russell 3000 Index closed at 1,642.77 with a loss of  -3.24% or  -55.06 point; the Russell 1000 Index closed at 1,539.26   with a loss of  -3.27% percent or  -52.08 point;