U.S. stock futures lower  in pre-market trading for , October 12.The Nasdaq Futures is trading at 6,982.75 with a loss of -0.70% percent or -49.25 point.The Dow Futures is trading at 25,301.00 with a loss of -0.85% percent or  -218.00 point.The S&P 500 Futures is trading at 2,760.00 with a loss of -0.76% percent or -21.00 point.
In overnight trading in the Eastern Hemisphere, Japan's Nikkei 225 is trading at 22,694.66 with +0.46% percent or +103.80 point. Hong Kong's Hang Seng is trading at 25,711.91   up with +1.76% percent or +445.54 point. China's Shanghai Composite is trading at 2,607.49  up with +0.93% percent or +24.04 point. India's BSE Sensex is trading at 34,692.41  up with +2.03% percent or  +691.26 point at 12:15 PM.The FTSE 100 is trading at 7,054.98 UP with +0.69% percent or +48.05 point. Germany's DAX is trading at 11,602.16 up with +0.54% percent or +62.81 point. France's CAC 40 is trading at 5,141.24 up with +0.68% percent or +34.87 point. The Stoxx Europe 600 is trading at 361.92  up with +0.63% percent or +2.25 point.
Friday's Factors and Events
The move higher on U.S. stock futures follows an uptick in global equities. In Europe, the German Dax gained half a percent while France's CAC 40 climbed 0.7 percent. Asian equities also rose, with the Shanghai Composite surging 0.9 percent and Japan's Nikkei 225 gaining 0.5 percent.
On Thursday, Wall Street closed sharply down, with the Dow falling over 540 points, bringing its two-day losses to more than 1,300 points. Sentiment was rocked around the globe in recent sessions, as investors grew nervous over the rise in interest rates and high valuations in tech shares.
For the day The Nasdaq Composite is trading at 7,422.05  with a loss of  -4.08% percent or -315.97 point.the Dow is trading at 25,598.74  with a loss of -3.15% percent or -831.83 point. The S&P 500 is trading at 2,785.68 with  a loss of -3.29% percent or -94.66 point.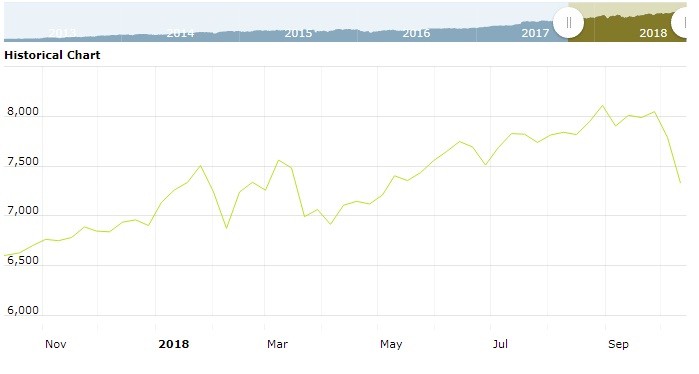 Other leading market index closes included the small-cap Russell 2000 Index closed at 1,575.41   with a loss of  -2.86% percent or ?46.45 point; the S&P 600 Small-Cap Index closed at 987.79   with a loss of -2.77% percent or  –28.15 point; the S&P 400 Mid-Cap Index closed at 1,905.43   with a loss of  -2.63% percent or -51.42 point; the S&P 100 Index closed at 1,239.83 with a loss of  -3.41% percent or  -43.77 point; the Russell 3000 Index closed at 1,642.77 with a loss of  -3.24% or  -55.06 point; the Russell 1000 Index closed at 1,539.26   with a loss of  -3.27% percent or  -52.08 point;