U.S. stock futures lower  in pre-market trading for , October 23.The Nasdaq Futures is trading at 7,057.25 with a loss of -1.37 percent or -98.00% point.The Dow Futures is trading at 25,041.00 with a loss of -1.00% percent or -253.00 point. The S&P 500 Futures is trading at 2,725.00   with a loss of -1.14% percent or -31.50 point.
In overnight trading in the Eastern Hemisphere, Japan's Nikkei 225 is trading at 22,010.78 with a loss of -2.67% percent or -604.04  point. Hong Kong's Hang Seng is trading at 25,401.42  with a loss of -2.87% percent or -751.73 point. China's Shanghai Composite is trading at 2,594.83  with  a loss of -2.26% percent or -60.05 point. India's BSE Sensex is trading at 33,997.15  with a loss of -0.40% percent or -137.23 point at 12:15 PM.The FTSE 100 is trading at 7,001.60  with a loss of -0.58% percent or -41.20 point. Germany's DAX is trading at 11,331.97 with a loss of -1.67% percent or -192.37  point. France's CAC 40 is trading at 4,991.51  with a loss of -1.22% percent or -61.80 point. The Stoxx Europe 600 is trading at 355.68  with a loss of -1.13% percent or -4.06 point.
Tuesday's Factors and Events
Investor focus is largely attuned to developments in Saudi Arabia, after the country confirmed Jamal Khashoggi, a journalist and critic of the Saudi regime, was killed in the country's consulate in Istanbul, Turkey.
European and Asian shares retreated on Tuesday as sentiment soured amid the escalating geopolitical worries. Europe's Stoxx 600 fell to its lowest level since December 2016 in early morning trade, with concerns over Italy's fiscal plans and Brexit also depressing sentiment, while Asian markets saw broad losses.
For the day  The Nasdaq Composite is trading at 7,468.63 up  with +0.26% percent or 1+9.60 point.the Dow is trading at 25,317.41 with  a loss of -0.50% percent or  -126.93  point. The S&P 500 is trading at 2,755.88 with a loss of  -0.43% percent or -11.90 point.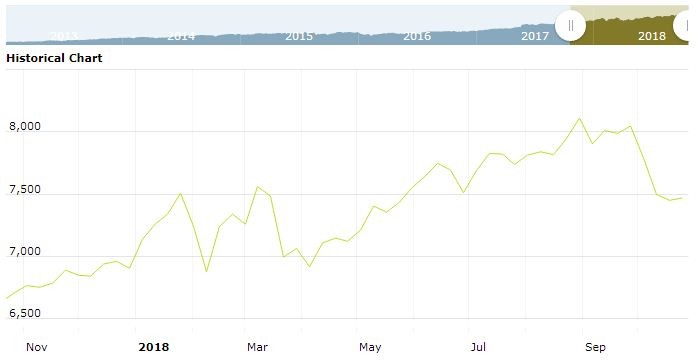 Other leading market index closes included the small-cap Russell 2000 Index closed at 1,539.50  with a loss of -0.16% percent or -2.54 point; the S&P 600 Small-Cap Index closed at 961.94   with a loss of -0.012% percent or -0.12 point; the S&P 400 Mid-Cap Index closed at 1,863.15  with a loss of -0.48% percent or  -9.02 point; the S&P 100 Index closed at 1,231.02 with a loss of -0.41% percent or -5.07 point; the Russell 3000 Index closed at 1,623.38  with a loss of -0.41% or  -6.66 point; the Russell 1000 Index closed at 1,522.44 with a loss of  -0.43% percent or -6.54 point;