U.S. stock futures lower  in pre-market trading for , October 24.The Nasdaq Futures is trading at 7,090.00 with a loss of -0.70% percent or -50.25 point.The Dow Futures is trading at 25,114.00 with a loss of -0.46% percent or -116.00 point.  The S&P 500 Futures is trading at 2,730.50  with a loss of -0.57% percent or -15.75 point.
In overnight trading in the Eastern Hemisphere, apan's Nikkei 225 is trading at 22,091.18 with a loss of -0.37% percent or -80.40 point. Hong Kong's Hang Seng is trading at 25,238.66  with a loss of -0.43% percent or -107.89  point. China's Shanghai Composite is trading at 2,603.42 up with  +0.33% percent or +8.59 point. India's BSE Sensex is trading at 33,997.93  up with +0.45% percent or +150.70 point at 12:15 PM.The FTSE 100 is trading at 7,010.78  with a loss of -0.80% percent or -55.57 point. Germany's DAX is trading at 11,314.40 up with  +0.36% percent or +40.12  point. France's CAC 40 is trading at 5,009.43  up with +0.84% percent or +41.74 point. The Stoxx Europe 600 is trading at 356.20 up with +0.61% percent or +2.16  point.
Wednesday's Factors and Events
There are also signs a burst of U.S. economic and earnings growth, fueled partly by tax cuts, may be waning — Wall Street suffered heavy losses on Tuesday after some companies, including industrial giant Caterpillar which is seen as an economic growth bellwether, maintained or cut profit forecasts. The shares pared losses toward close of trade and closed only half a percent lower.
Junichi Ishikawa, senior foreign-exchange strategist at IG Securities in Tokyo, predicted "more bouts of mini-panic" until Nov. 6 U.S. midterm elections. But he added that "as last night's resilience by Wall Street shows, sentiment has not broken down completely."
For the day The Nasdaq Composite is trading at 7,437.54 with a loss of -0.42% percent or -31.09 point.the Dow is trading at 25,191.43 with  a loss of -0.50% percent or  -125.98 point. The S&P 500 is trading at 2,740.69 with a loss of  -0.55% percent or -15.19 point.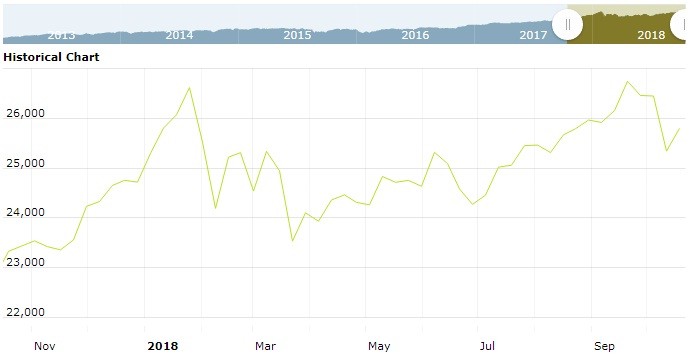 Other leading market index closes included the small-cap Russell 2000 Index closed at 1,526.59  with a loss of -0.84% percent or -12.91 point; the S&P 600 Small-Cap Index closed at 954.45   with a loss of -0.78% percent or -7.49  point; the S&P 400 Mid-Cap Index closed at 1,844.73  with a loss of -0.99% percent or  -18.42 point; the S&P 100 Index closed at 1,225.82 with a loss of -0.42% percent or -5.20 point; the Russell 3000 Index closed at 1,614.03 with a loss of -0.58% percent or  -9.36 point; the Russell 1000 Index closed at 1,513.98 with a loss of  -0.56% percent or -8.46 point;