U.S. stock futures lower  in pre-market trading for , October 25.The Nasdaq Futures is trading at 7,090.00 with a loss of -0.70% percent or -50.25 point.The Dow Futures is trading at 25,114.00 with a loss of -0.46% percent or -116.00 point.  The S&P 500 Futures is trading at 2,730.50  with a loss of -0.57% percent or -15.75 point.
In overnight trading in the Eastern Hemisphere, Japan's Nikkei 225 is trading at 21,268.73 with a loss of -3.72% percent or -822.45 point. Hong Kong's Hang Seng is trading at 24,827.04 with a loss of -1.67% percent or -422.74 point. China's Shanghai Composite is trading at 2,601.11  with a loss of -0.084% percent or  -2.19 point. India's BSE Sensex is trading at 33,678.52  with a loss of -1.04% percent or -355.44 point at 12:15 PM.The FTSE 100 is trading at 6,971.67 up with +0.12% percent or +8.69 point. Germany's DAX is trading at 11,244.00 up with  +0.47% percent or +52.37 point. France's CAC 40 is trading at 5,023.04  up with +1.41% percent or +69.95 point. The Stoxx Europe 600 is trading at 354.43 up with +0.33% percent or +1.18  point.
Thursday's Factors and Events
Netflix tumbled 9.4 percent as investors second-guessed valuations for the once high-flying video streamer. Facebook and Alphabet both fell more than 5 percent, while Apple dropped 3.4 percent. AT&T, meanwhile, dropped more than 8.1 percent after releasing its quarterly results.
Worries about a slowing economy under pressure from rising interest rates grew after the Commerce Department said new home sales fell to a two-year low. The data also hit homebuilder stocks.The SPDR S&P Homebuilders ETF (XHB) dropped 3.5 percent.
Bank shares fell on fears of slowing growth for mortgage and other loans. The SPDR S&P Bank ETF (KBE) dropped 4.1 percent. Shares of J.P. Morgan Chase and Citigroup both pulled back more than 1.5 percent. Bank of America's stock dropped 3.1 percent.
For the day The Nasdaq Composite is trading at 7,437.54 with a loss of -0.42% percent or -31.09 point.the Dow is trading at 25,191.43 with  a loss of -0.50% percent or  -125.98 point. The S&P 500 is trading at 2,740.69 with a loss of  -0.55% percent or -15.19 point.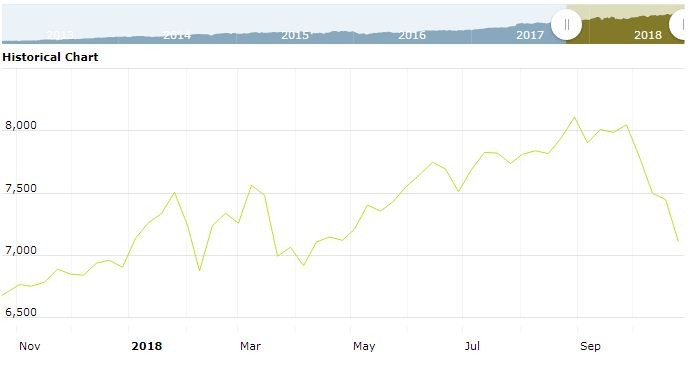 Other leading market index closes included the small-cap Russell 2000 Index closed at 1,526.59  with a loss of -0.84% percent or -12.91 point; the S&P 600 Small-Cap Index closed at 954.45   with a loss of -0.78% percent or -7.49  point; the S&P 400 Mid-Cap Index closed at 1,844.73  with a loss of -0.99% percent or  -18.42 point; the S&P 100 Index closed at 1,225.82 with a loss of -0.42% percent or -5.20 point; the Russell 3000 Index closed at 1,614.03 with a loss of -0.58% percent or  -9.36 point; the Russell 1000 Index closed at 1,513.98 with a loss of  -0.56% percent or -8.46 point;