U.S. stock futures lower  in pre-market trading for , October 26..The Dow Futures is trading at 24,654.00 with a loss of -0.90% percent or -223.00 point.The S&P 500 Futures is trading at 2,657.00  with  a loss of -1.16% percent or -31.25 point. The Nasdaq Futures is trading at 6,772.75  with a loss of -2.18% percent or -150.75 point.
In overnight trading in the Eastern Hemisphere, Japan's Nikkei 225 is trading at 21,184.60 with a loss of -0.40% percent or -84.13  point. Hong Kong's Hang Seng is trading at 24,700.99 with a loss of -1.17% percent or -293.47 point. China's Shanghai Composite is trading at 2,598.85  with a loss of -0.19% percent or  -4.95 point. India's BSE Sensex is trading at 33,576.58  with a loss of -0.34% percent or -113.51 point at 12:15 PM.The FTSE 100 is trading at 6,926.15 with  a loss of -1.11% percent or -77.95 point. Germany's DAX is trading at 11,094.64  with  a loss of -1.88% percent or -212.48 point. France's CAC 40 is trading at 4,915.57   with a loss of -2.32% percent or -116.72 point. The Stoxx Europe 600 is trading at 349.87  with a a loss of -1.47% percent or -5.18 point.
Friday's Factors and Events
"Despite (yesterday's) rally in stocks, investors are still wary that further moves to the downside could be coming," said Rakuten Securities Australia in a morning note. "After hours announcements from Amazon and Alphabet of slowing growth have done nothing to spur investor confidence and traders will still be cautious as we move through the sessions into the weekend."
"Liquidity may become an issue as we move towards the weekend after this (week's) excessive moves and traders will be preparing for sharp moves in the late New York session whilst hoping for a bit more consolidation," they said.
Thursday's Activity
For the day the Dow is trading at 24,984.55 up with +1.63% percent or  +401.13 point. The S&P 500 is trading at 2,705.57 up with +1.86%percent or +49.47 point. The Nasdaq Composite is trading at 7,318.34 up with +2.95% percent or +209.94 point.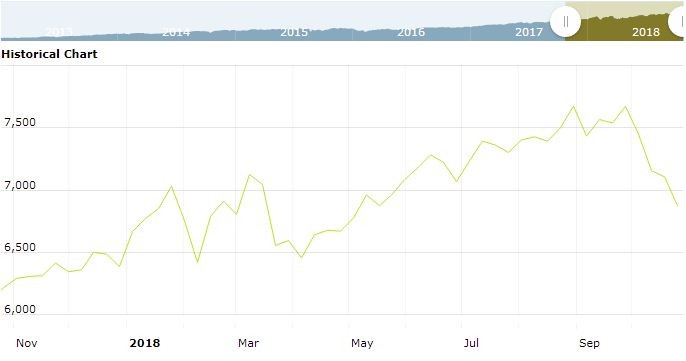 Other leading market index closes included the small-cap Russell 2000 Index closed at 1,500.40  up with +2.16% percent or +31.70 point; the S&P 600 Small-Cap Index closed at 941.26  up with +2.20% percent or +20.27  point; the S&P 400 Mid-Cap Index closed at 1,814.40  up with +1.42% percent or +25.38 point; the S&P 100 Index closed at 1,211.11  up with +2.14% percent or +25.33 point; the Russell 3000 Index closed at 1,592.21 up with  +1.87% percent or  +29.30 point; the Russell 1000 Index closed at 1,493.95 up with +1.85% percent or +27.17 point;