U.S. stock futures higher  in pre-market trading for , October 29.The Nasdaq Futures is trading at 6,970.75  up with +1.12% percent or +77.50 point.The Dow Futures is trading at 24,864.00 up with +0.48% percent or +118.00 point.The S&P 500 Futures is trading at 2,692.00  up with +0.84% percent or +22.50 point.
In overnight trading in the Eastern Hemisphere, Japan's Nikkei 225 is trading at 21,149.80 with a loss of -0.16% percent or -34.80 point. Hong Kong's Hang Seng is trading at 24,717.68 up with +0.00020% percent or +0.049 point. China's Shanghai Composite is trading at 2,544.10  with a loss of -2.11% percent or  -54.75 point. India's BSE Sensex is trading at 33,613.07  up with +0.79% percent or +263.76 point at 12:15 PM.The FTSE 100 is trading at 7,067.86 up with  +1.85% percent or +128.30 point. Germany's DAX is trading at 11,415.52 up  with  +1.92%percent or +214.90 point. France's CAC 40 is trading at 4,980.45  up with +0.26% percent or +13.09 point. The Stoxx Europe 600 is trading at 357.79  up with 1.53% percent or +5.34 point.
Monday's Factors and Events
Seven of the 11 S&P 500 sectors are down at least 10 percent from their 52-week highs, including energy, materials and financials. Around three quarters of the index's stocks are also in a correction.
"The 19.7 percent correction in 2011 is as close to a bear market as we've had in recent years. I don't think we'll get close to that, but I think we're heading for a deeper correction than the one we had in January and early February," said Sam Stovall, chief investment strategist at CFRA Research. He noted investors are realizing that earnings growth will slow down moving forward, thus they are pricing this in.
Friday's Activity
For the day The Nasdaq Composite is trading at 7,167.21  with a loss of -2.06% percent or -151.12 point.the Dow is trading at 24,688.31  with a loss of -1.19% percent or  -296.24 point. The S&P 500 is trading at 2,658.69 with a loss of -1.73% percent or -46.88 point.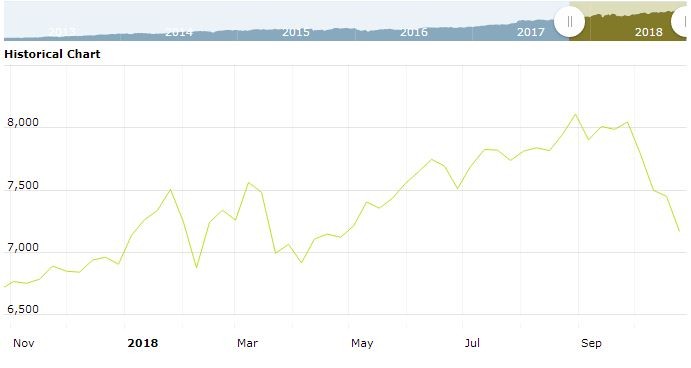 Other leading market index closes included the small-cap Russell 2000 Index closed at 1,483.82  with a loss of -1.10% percent or -16.58 point; the S&P 600 Small-Cap Index closed at 932.15  with a loss of -0.97% percent or -9.11  point; the S&P 400 Mid-Cap Index closed at 1,795.10  with a loss of -1.06% percent or -25.38 point; the S&P 100 Index closed at 1,189.06   with a loss of -1.82% percent or -22.05 point; the Russell 3000 Index closed at 1,565.94  with a loss of  -1.65% percent or -26.27 point; the Russell 1000 Index closed at 1,468.66  with a loss of -1.69% percent or -26.27 point;